It's chair workout time!
Maybe you don't have to go to the gym every day to sweat. Maybe it's time for you to hit the dining room this time. Simply grab a chair for this exciting and challenging workout!
You don't need any gym equipment for this routine. All you need is a chair and you're good to go! But before trying this exciting chair workout, make sure you're wearing the best top for this one.
Being a woman and finding the perfect women's tops to wear for any occasion is no easy task. For instance, when working out, do you want a loose fitting or a tight fitting top?
Once more, is a crop top or a tunic top appropriate for doing your daily cardio routine? Are you planning to try this new exercise trend?
Make sure to choose your perfect women's tank tops in your closet. You can wear your off-shoulder tops, bikini tops or your cute women tops.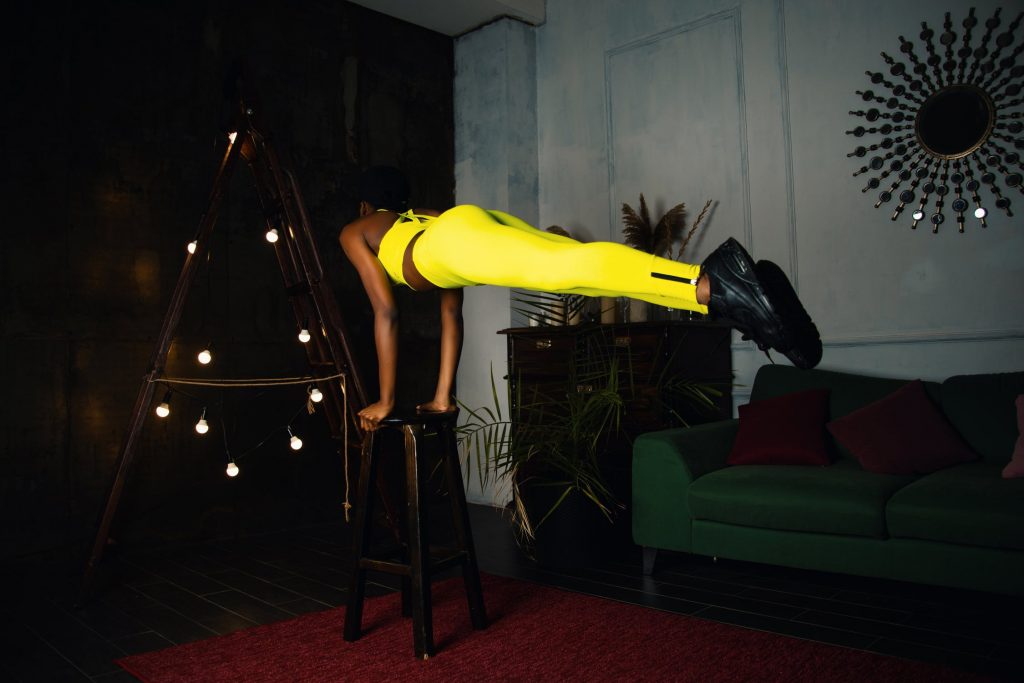 Chair Exercise
Who would have thought that a simple chair can help you to get fit? Most people who have been injured, who are out of shape, and the elderly ones can benefit from this exercise.
Chair exercise or chair workout can tone your muscles, improves cardiovascular fitness, and burn calories. So, if you're looking for a solution on how to get in better shape without spending too much time working out, we got your back!
Needless to say, this workout can be done anytime and anywhere, even in your office.
Who Can Benefit?
As stated above, many people can benefit from this workout, including:
Seniors, people with diabetes; with physical disabilities, with injuries that prevent other types of exercise. People with chronic cardiovascular disease and congestive heart failure. And office workers who sit all day and need to move a bit.
Benefits
This exercise may be as simple as you thought, but did you know that it offers multiple benefits?
Chair workout can improve your strength and muscle core, also it can help to improve your range of motion. For a better cardiovascular fitness and circulation and a better cognitive function, chair exercise is the solution! This exercise has the potential to reduce pain, better mood, better sleep and improve your bone density.

Chair Exercise Routine
Try to maintain rhythmic and continuous motion in order to elevate your heart rate as you perform chair exercise. You can warm up by doing five minutes of low-intensity activity before entering your full workout routine. Don't forget to monitor your heart rate to make sure it doesn't get too high.
Here are the 6 seated moves that work your whole body by Shape. You don't have to give up on your workout. In fact, you don't even have to leave your desk! These sneaky seated moves offer a total-body cardio and strength workout. Not convinced? Give it a try! Your burning muscles will be your proof.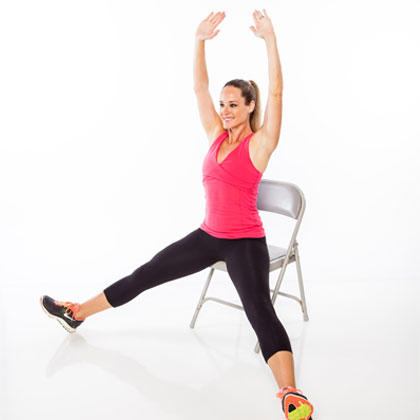 Sit Down to Tone Up!
All you need for this exercise is a sturdy chair. How it works: Do 1 set of each exercise back to back, with little to no rest in between moves. Do the full circuit 1 to 3 times total, depending on your schedule, or spread it throughout the day (1 round in the morning, 1 round at lunch, and 1 round in the afternoon) for an instant, calorie-burning energy boost.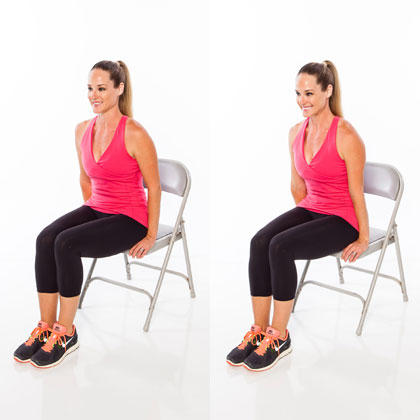 Sneaky Buns and Guns
How to do it: Start at the edge of the chair, knees bent and together with feet flat on the floor, hands just outside of hips, and elbows slightly bent. Squeeze knees and "cheeks" together tightly while pushing down with hands, extending elbows (you'll sit taller, but you should never leave your seat). Release. Do 30 quick reps in a row.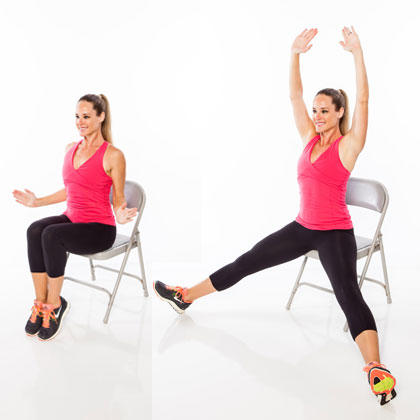 Seated Jacks
Jumping jacks are great for cardio—but they can be tough to do in the middle of the workday or with a lower-body injury. This seated variation is just enough to spike your heart rate and burn calories without leaving you drenched in sweat.
How to do it: Sit tall with knees bent and together, feet pointed with toes lightly touching the floor, elbows bent and arms open to the sides with palms facing forward. Quickly open legs out to sides, flexing feet, landing on the heels, and extending arms overhead. Return to start. Do 30 quick reps in a row (the faster your tempo, the harder you'll work).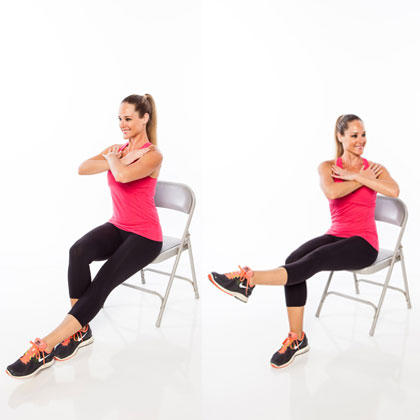 Leg Lift and Twist
How to do it: Sitting tall on the edge of the chair, extend the right leg out straight with foot on the floor, arms crossed over the chest. Brace abs in tight and rotate torso to the right as the right leg lifts to left knee, squeezing knees together. Return to start. (Try timing your breathing for better abs activation too—focus on exhaling during the twist and lift, and inhale as you return to start). Do 20 reps, and then repeat on opposite side.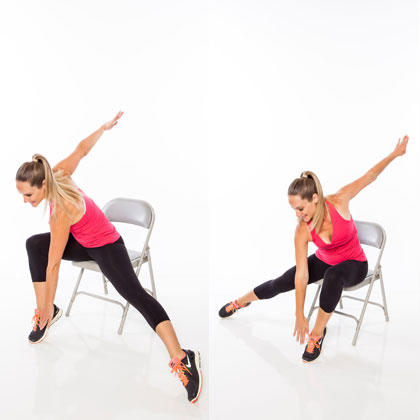 Skater Switch
This low-impact version of a side skater blasts calories while engaging the core, inner thighs, arms, and shoulders.
How to do it: From the edge of your chair, bend right knee out to the side, extending left leg out straight to the side, toes pointed. Extend arms straight and lean forward slightly, reaching left arm to inside of right foot, raising right arm up behind body, twisting through the torso. Quickly switch sides. Repeat as quickly as you can for 30 alternating reps.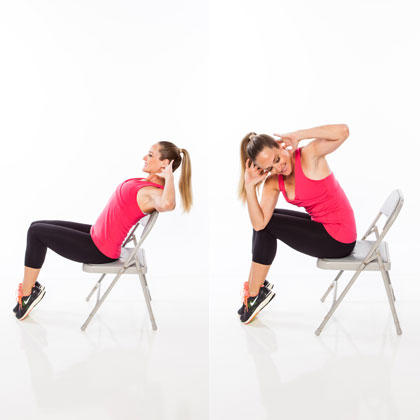 Hinge and Cross
How to do it: Sit tall with knees bent and together (focus on squeezing inner thighs together for more muscular activation), toes pointed, hands behind head. Brace abs in tight and hinge back until just shoulder blades are lightly touching the back of the chair. Bring body forward, crossing the right elbow to the outside of left knee. Return to start. Repeat for 20 alternating reps.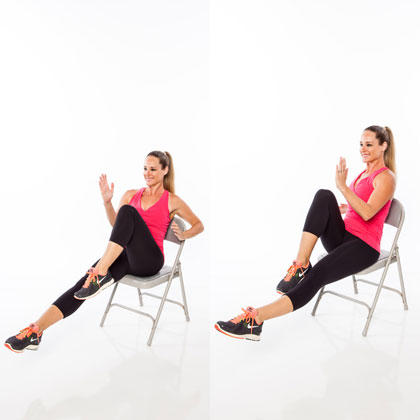 Chair Running
How to do it: Sit with legs extended, toes pointed, arms bent by sides. Brace abs in tight and hinge back until just shoulder blades are lightly touching the back of the chair, lifting legs low in front of you. Bend left knee into chest, turning right shoulder in towards the knee, pulling left elbow slightly back, then quickly switch sides. Repeat as quickly as you can for 30 alternating reps.