Choosing the Best Joggers in 2018
No matter if you are trying to be comfy when lounging around the house, are going to the gym to complete a tough workout or simply going to do your weekly food shop, men's joggers, AKA sweatpants, are an item of clothing you are bound to see at least one person wearing.
This is as they are an item of clothing of which are highly versatile.
For instance, wanting to go for a walk outside in the cold? Sweatpants can keep you warm.
Or, are you looking for a new take on the smart casual look? Jean joggers may be the solution.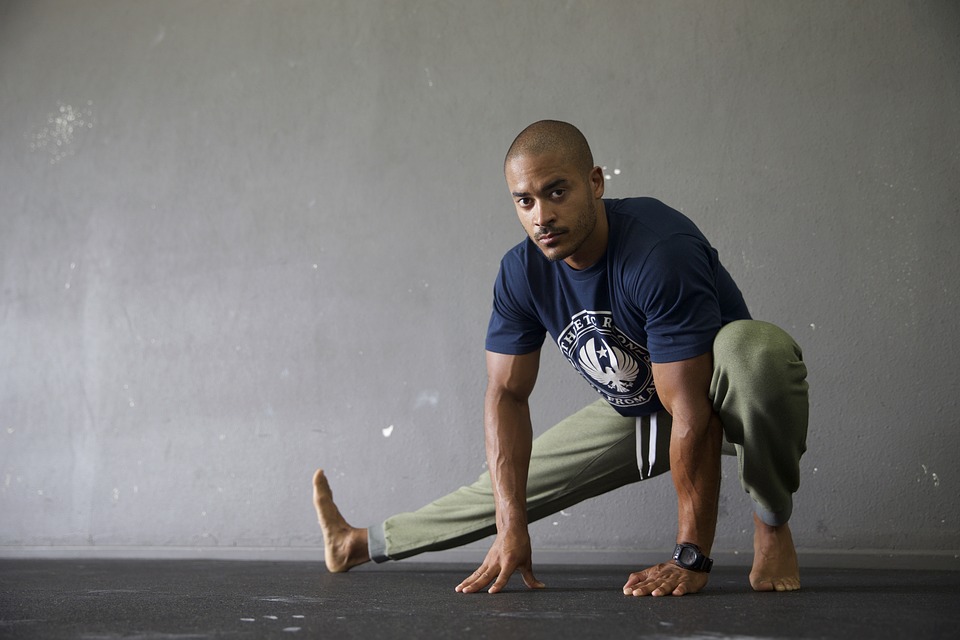 But, with that being said, finding the joggers for men that are right for you isn't always easy.
What style should you be looking for? Which material is likely to keep you the warmest?
These are just a few of the many questions we all have regarding the topic of sweatpants.
Therefore, we have put together this guide offering you the best clarification of the types of joggers available to you.
Here is our guide to finding the best mens joggers in 2018.
What are Men's Joggers?
It's all very well discussing the types available. But it's important to first understand, what are joggers?
First of all, did you know that they were actually invented in the 1920's?
Emile Camuset was the one who first designed the joggers we know today as a way to allow athletes the ability to perform their stretches and run to the best of their abilities, comfortably in cold weather conditions.
These joggers were knitted and were grey in colour, a style which is still very popular.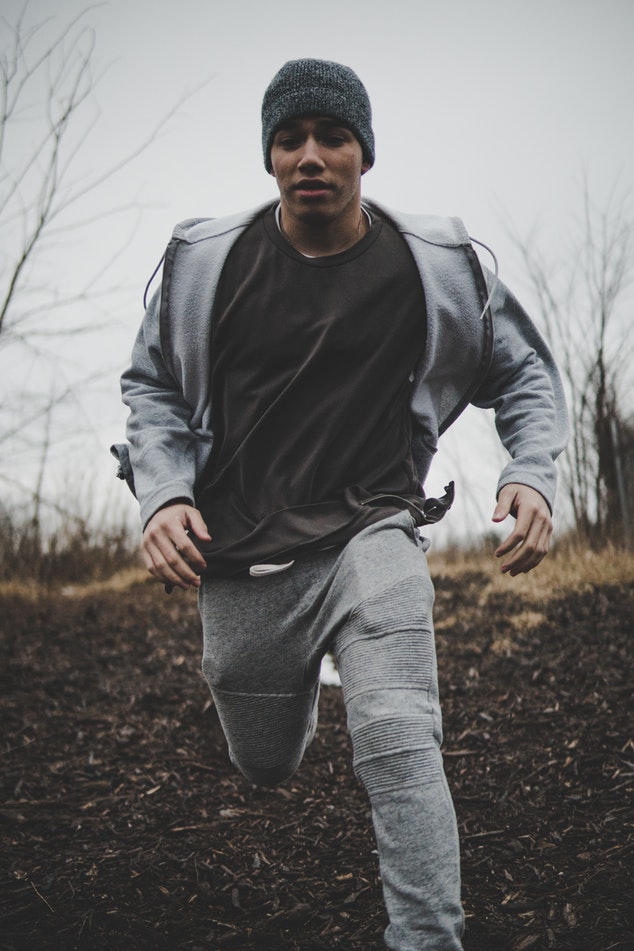 Styles of Men's Joggers
There are many styles of joggers that you could potentially choose to wear as part of your workout outfit. Or even just as a comfy outfit to lounge around the house in.
But what are the main types available?
Jean Joggers
For those looking for the smart casual appearance of jeans with the additional comfort you can achieve from wearing a pair of joggers, jean joggers mens are your best bet.
Often, they will have a drawstring or elasticated waist as well as elasticated ankles, similar to as if you were wearing normal joggers.
Wearing these will give you the freedom to wear joggers wherever you like with them being seen as acceptable. You may even be able to wear them to work if you're brave enough.
But you may be wondering what to wear with joggers. In our opinion, pair the jean jogger with a smart shirt, maybe even a blazer. Doing this gives you the potential of having a very on point outfit on your body.
Skinny Joggers
Men's skinny joggers are, well, exactly what the name suggests. Joggers that are a tight fit around the leg hence the name skinny. Similar to skinny jeans.
These can be great for working out in as the additional fabric that may occur if they were not skinny is unlikely to be getting in the way. Ideal if you are going to go on the treadmill for a jog.
Furthermore, for those so inclined, a skinny jogger can be a great way to subtly show off your legs and their muscles. However, probably best to do this if you haven't skipped leg day to save the potential jokes.
Drop Crotch Joggers
Joggers that have a drop crotch, are, well what they sound like. Joggers where the crotch falls low on whoever is wearing them.
They are often seen as pants worn by hip-hop artists. Think MC Hammer, but not as extreme. The idea is that they are comfy to wear and will keep you cool and relaxed.
However, when worn incorrectly, yes, you may look as if you're wearing a poopy diaper.
The best men's joggers are those that have a tailored fit. This means they are slightly tight fitting around your legs. This way, the drop crotch is emphasising.
And when standing with your legs apart, something which is a must with drop crotch joggers, everyone will be able to see the clear definition between jogger and crotch.
Furthermore, a cropped drop crotch can work too. This is where the legs are more ¾ in length rather than full length. By opting for cropped dropped crotches there is less need to worry about getting the right proportion of pant and crotch.
However, please remember when thinking about getting yourself a pair of drop crotch joggers to consider what you look like from behind. Either use a mirror or get a friend to take a photo of you.
This is as, yes, you may look really cool from the front. But from behind one thing you definitely don't want to be a victim of is the dreaded saggy butt.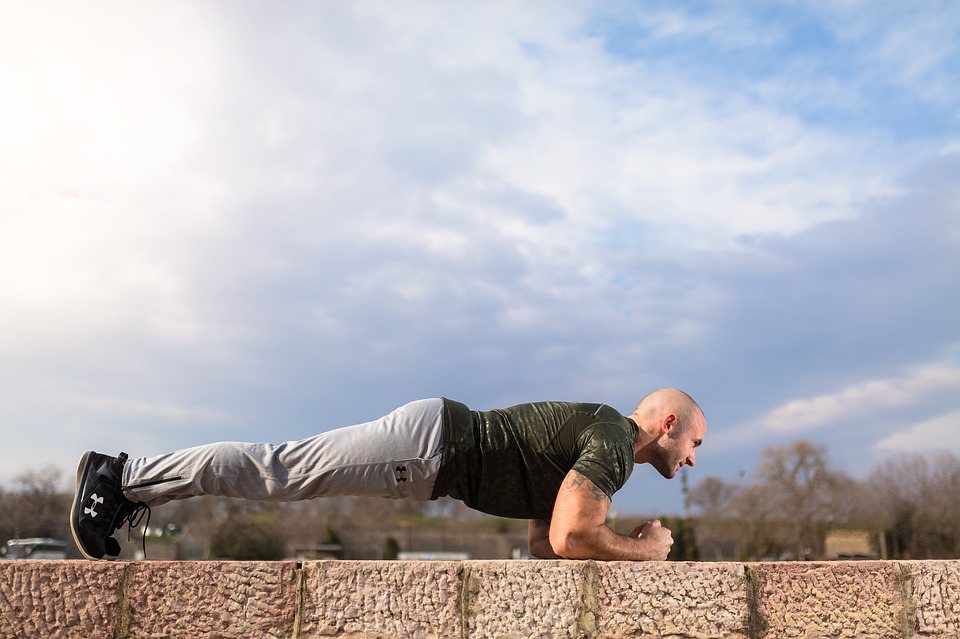 Best Joggers Materials
Generally, the joggers you are likely to come across will either be made of cotton or polyester or even a mixture of the two. But which is the one that's right for you?
Which would be best for those of you who are likely to get very sweaty? And which would be best for those of you wanting to stay warm and comfy whilst lounging around your house?
Well, let's find out…
Cotton
A comfortable and a breathable material, cotton is a natural fibre that is able to allow your skin to breathe.
Therefore cotton is comfortable against the skin. And, if your skin is sensitive, cotton can be the best option of material to choose in your next outfit.
Furthermore, it is able to wick sweat away from your body. This means you are unlikely to feel wet when from sweat.
However, overtime cotton will break down and lose shape. Therefore, your skinny joggers may eventually not be that skinny anymore.
Polyester
Alternatively, polyester is a material that is water-repellent, therefore making it non-absorbent. And, when it does get wet, it can dry quickly. Ideal if wearing joggers out on a run where rain or puddles are a possibility.
Furthermore, due to the fact the moisture regain is low at 0.4%, polyester is unlikely to absorb sweat. Therefore allowing you to stay dry throughout your workout. And, meaning the polyester is less likely to wrinkle.
However, a downside of polyester is that your skin is unable to breathe. This will only be a problem in the warmer months where you may find yourself working up a sweat.
Although, with that being said, many designers have engineered polyester products made with the purpose of wicking sweat away from your body.
But, if you were to buy cheap joggers, you may notice them beginning to smell after a period of time.
Cotton and Polyester Blends
Perfect if you are looking for the happy sweet spot in between cotton and polyester. Blends take the best qualities of both materials and weave them together to make an efficient workout fabric.
By combining both cotton and polyester, you now have a fabric that is both breathable and sweat-resistant.
And, clothing that has both properties are unlikely to shrink and fade over time.
Therefore idea if looking for designs such as emoji joggers or camo joggers mens.
Here is a summary of the three types of materials you are likely to find when looking at men's joggers and their main features:
| Cotton | Polyester | Cotton/Polyester Blends |
| --- | --- | --- |
| Easy to dye, ideal for crazy designs | Extremely durable | Should never shrink |
| Breathable | Quick drying | Affordable |
| Ideal for those with sensitive skin | Unlikely to wrinkle | Good at keeping its Shape |
| A soft & strong fabric | Unlikely to fade | Good at keepin its colour |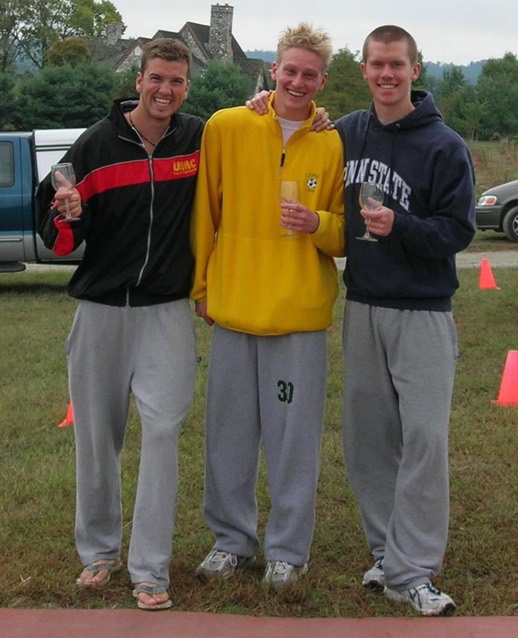 Conclusion
We believe that mens joggers pants are an essential item in any person closet. Whether that person is an avid gym goer or not. Joggers can be applied to a number of scenarios. Working out, going out shopping, relaxing, sleeping and more.
However, remember to consider the size and style of men's joggers you require before you make up your mind. This is as, if you are taking part in a tough HIIT routine, drop crotch men's joggers probably aren't going to be the best choice.
Whereas, if you are going on a trip outdoors with friends and family. Or even to work. Jean joggers may be the ideal.
It is essential not to get carried away with the idea of cheap joggers. Most of the time, a limited number of high-quality joggers will go much further than lots of pairs of low-quality joggers.
Although, on the plus side, if you have ever-changing tastes, maybe buying bulk cheap joggers are best. And, why not try a varying amount of styles where you are able to mix and match your outfits up together. There are many ways you can do this.
In fact, there are so many joggers outfits mens out there that the possibilities of how you could dress to impress are endless.
For example, you just have to take a look at some of our men's joggers reviews to see for yourself:
Lulelemon ABC Jogger