Choosing The Best T-Shirts In 2018
Recently, we began to notice that, these days, walking into various shops on the high street, you are highly likely to come across individual brands own take on gym wear. From athletic shorts to workout hoodies to t-shirts, the possibilities of what you could buy are endless.
We particularly noticed this with men's t-shirts. However, many of us fall into the trap of picking our clothes based on how they look, the fancy design or the eye-catching colours.
But, in reality, choosing the right workout t-shirt is vital. The wrong fabric may be unable to cope with your sweat, causing you to smell. Similarly, poor quality could lead to skin irritation, specifically chafing. Which none of us want.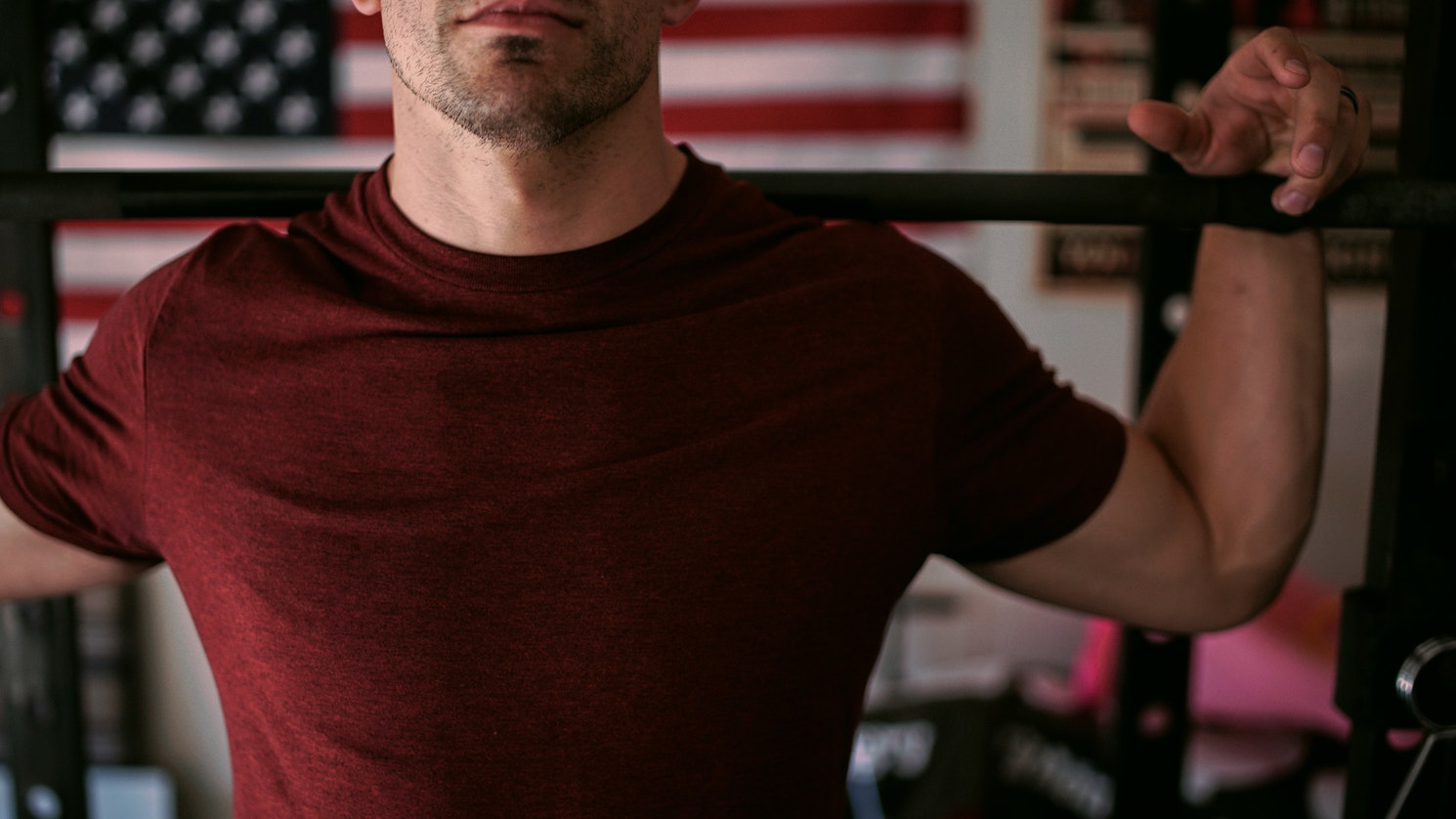 But, with that said, how are you supposed to know what the right shirt for you is? For instance, should it be tight fitted or loose fitted? Sleeveless or sleeved? V neck or no v neck? The questions are endless.
Therefore, with the hopes of making your next workout clothing shopping trip that little bit easier, here is our guide to help you choose the best t-shirts for men in 2018.
What Should You Be Looking For?
Is It Wicking?
For those that aren't aware, wicking is the clothes ability to retract any moisture built up during your workout away from your body. This can, therefore, aid in preventing the build-up of sweat.
Examples of wicking materials include polyester and lycra blends, wool, bamboo and any other similar synthetic materials.
Not only a must for those who often fall victim to being soaked through by the end of a workout in the summer, wicking is also useful all year round. This is as the fabric can keep you warm during the winter, and contrastingly cool during the summer.
Is It Acceptable?
This may sound like a strange factor to include when looking for the best mens t-shirts. But, especially when in a gym environment, considering those around you is simply a nice gesture.
Don't wear anything too revealing. Yes you might be proud of your body, but most of the time, people probably don't want to see it.
In order to do this successfully, consider the type of working out you are going to be partaking in. For instance, if you are doing activities that require stretching such as yoga, gymnastics or simply an intense warm up/cool down, a loose tshirt may suit you better.
Whereas, if taking part in hard going HIIT, bike riding or just on the treadmill, a tightly fitted tshirt maybe a good idea.
Also, consider colour, dark colours work well as they can make sweat less visible then, say, a light blue t-shirt would.
On the other hand, what you want to wear is all down to preference. Therefore, it may be best to take note of what others around you are wearing. For instance the gym instructors, or simply the person who used the equipment before you.
Of course, this isn't always going to be reliable intel on finding out what you should be wearing, but it may help you know what not to wear.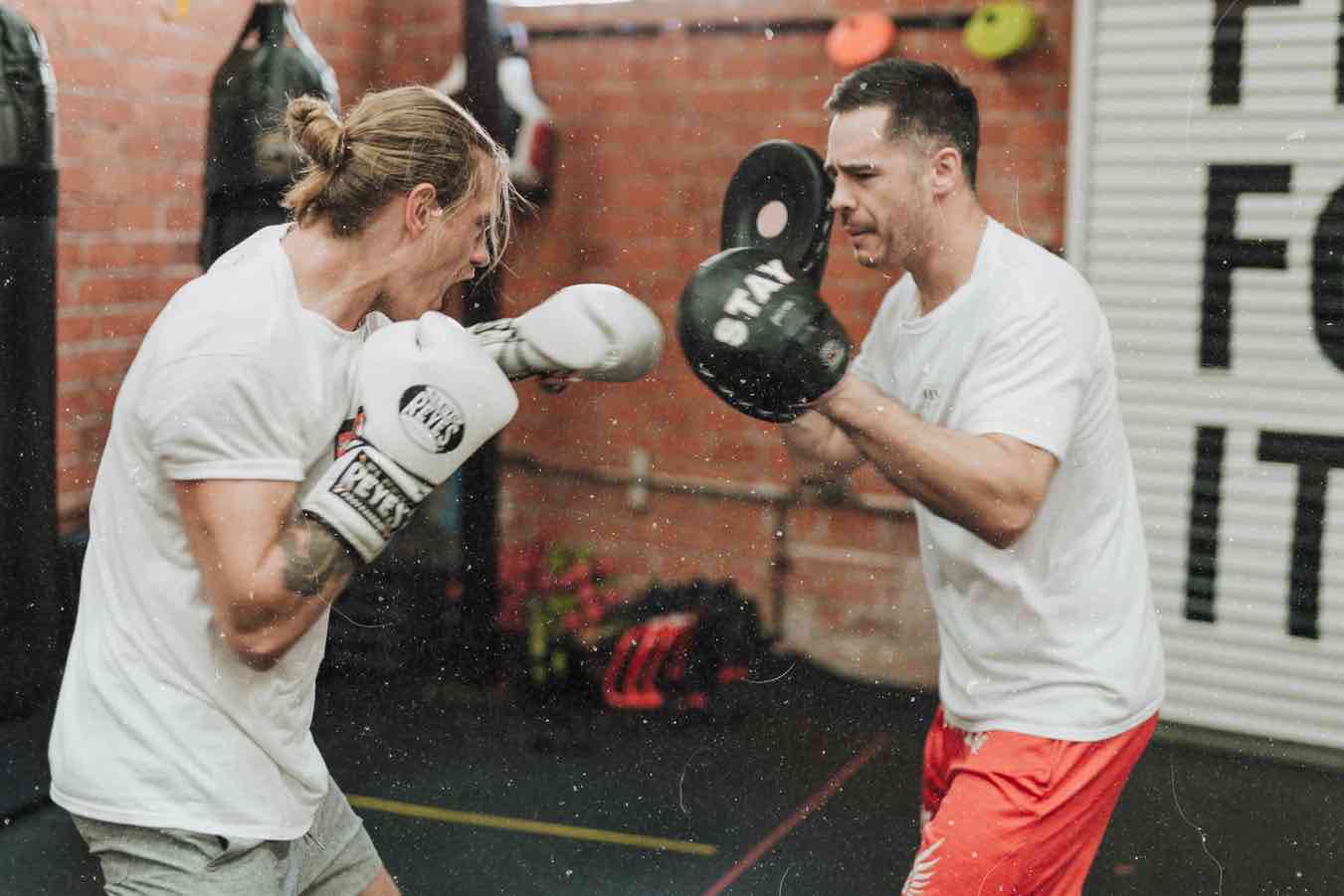 Ranges of Tshirts
Compression
Compression t-shirts are a choice of clothing that is ever increasing in popularity. The purpose of compression garments is to be a tight fit on your body, tighter than most non-compression tight clothing.
They aim to strengthen your body, whilst providing support for those who have to stand for long periods of time, or similarly those with poor circulation.
In terms of exercise, compression garments can also reduce any swelling and inflammation which may become apparent in your upper body.
Short sleeve tshirts target your upper body and chest specifically. Whereas, long-sleeved t-shirts aim to tighten the extremities in order to heighten the amount of blood that is flowing back to your core.
Other advantages of compression t-shirts include:
Preventing muscle strain due to keeping muscles warm
Prevents Chafing and rashes by wicking sweat away from the body
Can relieve stiffness and soreness pain
Could reduce the time muscles take to repair themselves
Reduced risk of muscle damage
How To Choose the Correct Compression Size
In order to experience all of the advantages compression technology can offer, it is vital to ensure you are getting the right size.
Contrary to belief, buying the size down from your usual size is not essential, this is as they are designed to be tight fitting. Therefore by dropping a size, you may find the tshirt to be too tight.
In fact, to begin with, consider opting for a large size than you would usually choose. This way, you can slowly train your body to get used to the tight sensation of compression garments.
In order to find the correct size we recommend looking at the size charts of who you are buying from. This is as different manufacturers will follow different sizes.
Therefore, ensure to take up to date accurate measurements of yourself to compare with the measurements listed.
Also, bear in mind that the best way to wear compression t-shirts is to wear it on it's own with nothing on top, or under it. Therefore, consider this when choosing the tshirt. Make sure you choose a look that you are comfortable to be seen in.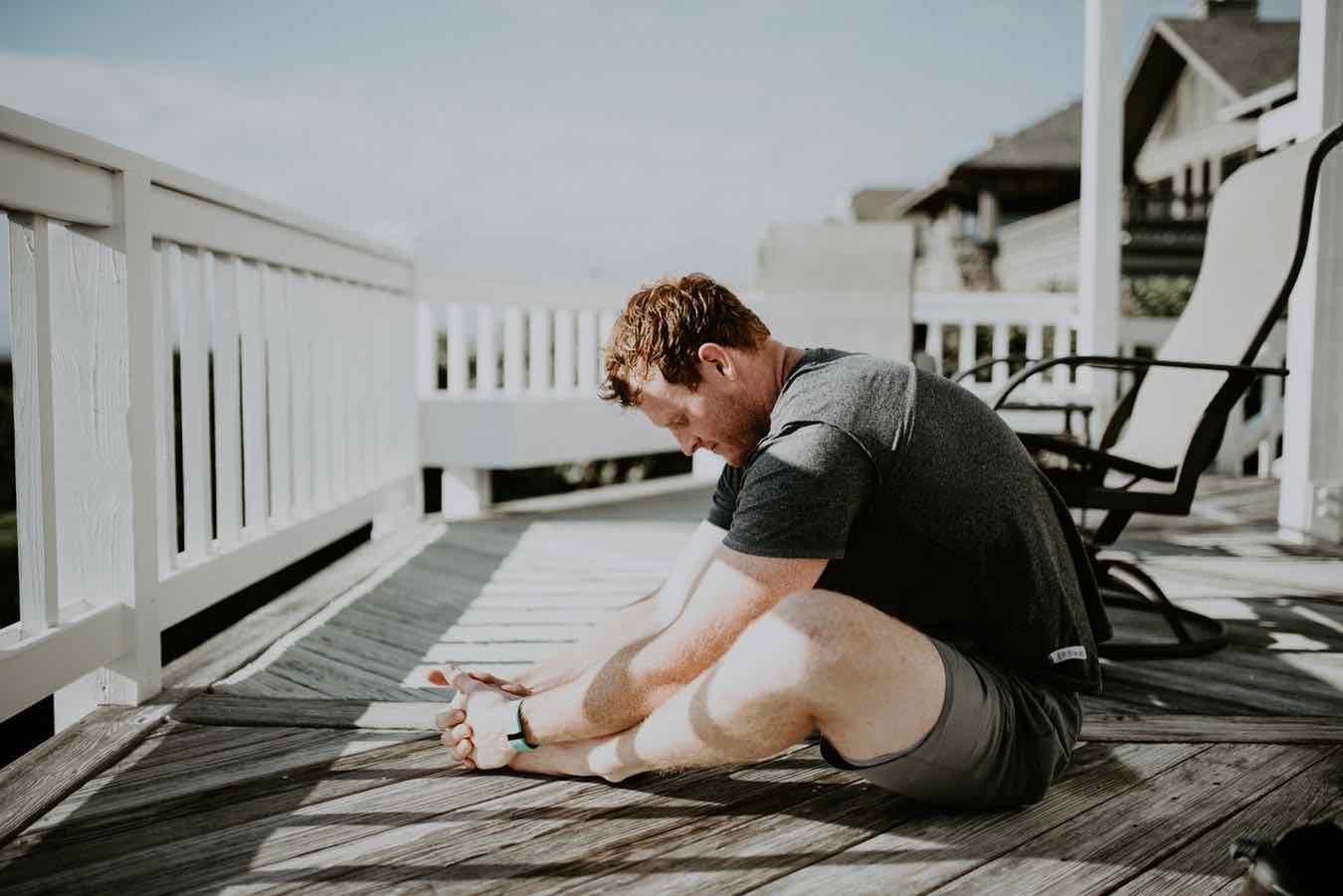 V Neck
Mens vneck t-shirts are a controversial item of apparel. Is there really a need to add a slither more of visual to an outfit? Yes, it is an easy way to show off your pecks, but is it necessary?
In our opinion, there is nothing wrong with mens v neck t-shirts. In our opinion, they are best suited to men who are shorter in height. This is as it can help make them seem less boxy, whilst also adding the illusion of height to the appearance. Additionally, if you have a round or wide face, a v neck could also work.
However, for those larger in size, a v neck may be something you want to stay away from. This is as the V can often consume all the attention. And often, it may draw attention towards your belly.
In general, those with a smaller V are your best bet. This is as, unless you have an impressive chest, wearing a large V neck can be a difficult task to successfully pull off. And, in some cases, you may even look silly.
What Size Tshirt do you Need?
In order to find the best mens tshirt for you, there are a number of factors to consider when looking for size.
First of all, you need to pay attention to your body. In your day to day life, what type of fit do you like wearing? And what do you look good in? It is essential to first know your body shape before you even begin thinking about what sort of tshirt you might like.
In some cases, the perfect fit can be achieved by finding a tshirt where the shoulder seam directly site on your arm joint. It should then finish at your waist.
Generally, for those with a muscular build, it may be best to opt for a tight-fitting shirt. Although, a baggy shirt could prove to be pleasing too. Whereas, if you own a stocky build, fitted shirts are probably best for you.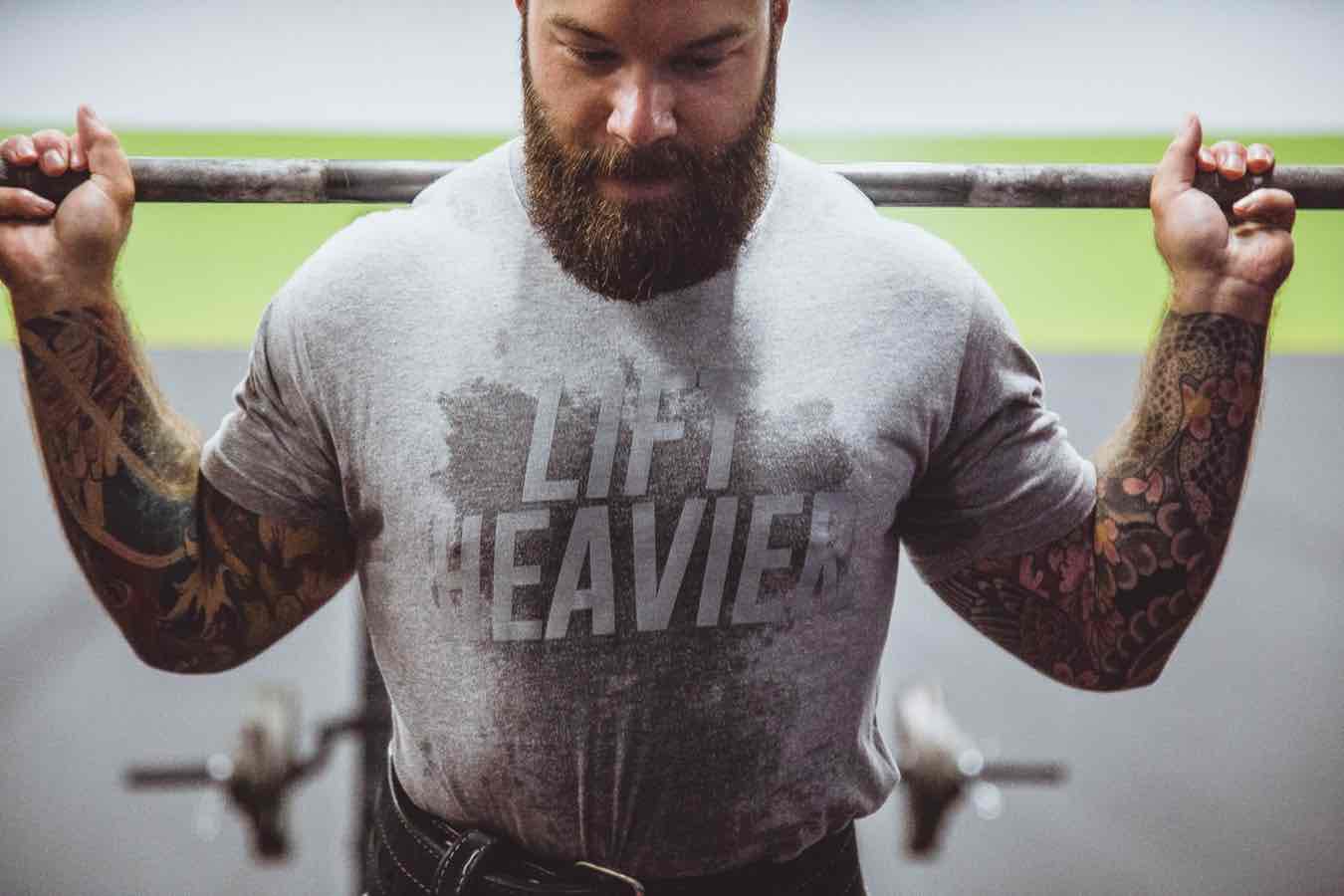 The Best Tshirt Material
Natural
If you are wanting to ensure you smell fairly bearable during your workout, natural fabrics are the best option.
Although with that said, cotton absorbs liquid. Especially sweat. Therefore when worn for a long period of time this may cause you to feel uncomfortable.
One example of a natural material is cotton. Ideal for warmer months, cotton is most popular due to its comfy feel when placed against the skin. And, as a result of this, when wearing cotton t-shirts you are unlikely to experience chafing.
Therefore ideal when wanting to wear for a long period of time. For instance during a long power walk in the park. However, please note that cotton apparel is likely to lose their shape after a while.
Synthetic
An advantage in many people's eyes, synthetic materials have sweat-wicking capabilities. Therefore, ensuring you are kept dry during the length of your workout.
Of course, the t-shirt is likely to smell after a while when wearing synthetic materials. But this can be restored when washed.
In fact, washing your clothes is essential to prevent the build-up of corynebacteria, which is a bacteria capable of causing you to smell.
Conclusion
Overall, finding the ideal workout tshirt before you begin your exercise journey is vital in order to achieve a successful, efficient workout.
And, we believe that finding high-quality t-shirts that will be comfortable to wear, whilst helping you regulate your smell or amount of sweat will help you keep focused throughout your workout.
However, never rush into buying something you aren't sure about. Especially when it comes to high-end wear. Ensure you know the exact style and size beforehand. This way you can save yourself the disappointment of not getting a successful workout because you're too busy regretting your outfit choice.