Choosing The Best Leggings In 2019
When walking around your local town or city, there is a good chance you will see somebody wearing leggings. This could be as part of a gym outfit, casual outfit or even a smart work outfit. Most of the time, the people wearing them are likely to be girls. Which raises the question, why do girls wear leggings?
First of all, leggings are a popular type of trouser which is tight-fitting with the ability to stretch. Leggings seem to be popular amongst women as they are an impressively versatile item of clothing. Available as fleece-lined for comfy relaxation in the Winter. Or as mesh to get a bit more breeze in the warmer months.
Leggings for women can be used for a multitude of reasons. Not only limited to comfort, they can be a worn as a fashion statement and as the perfect exercise outfit. In fact, here's how you can stay classy while wearing leggings at work.
Available in endless numbers of colours. Including white leggings, pink leggings and black leggings. As well as a multitude of designs and styles, they can also provide a way of confidently showing off your character.
For example, designs of the planets and stars. Or your favourite food whether it be pizza or doughnuts, cute animals, your countries flag. Even pictures of celebrities faces can be found printed onto the best leggings.
But, with so many types of legging pants available, choosing the right pair can be confusing. Therefore, here is our guide to help you find the best leggings.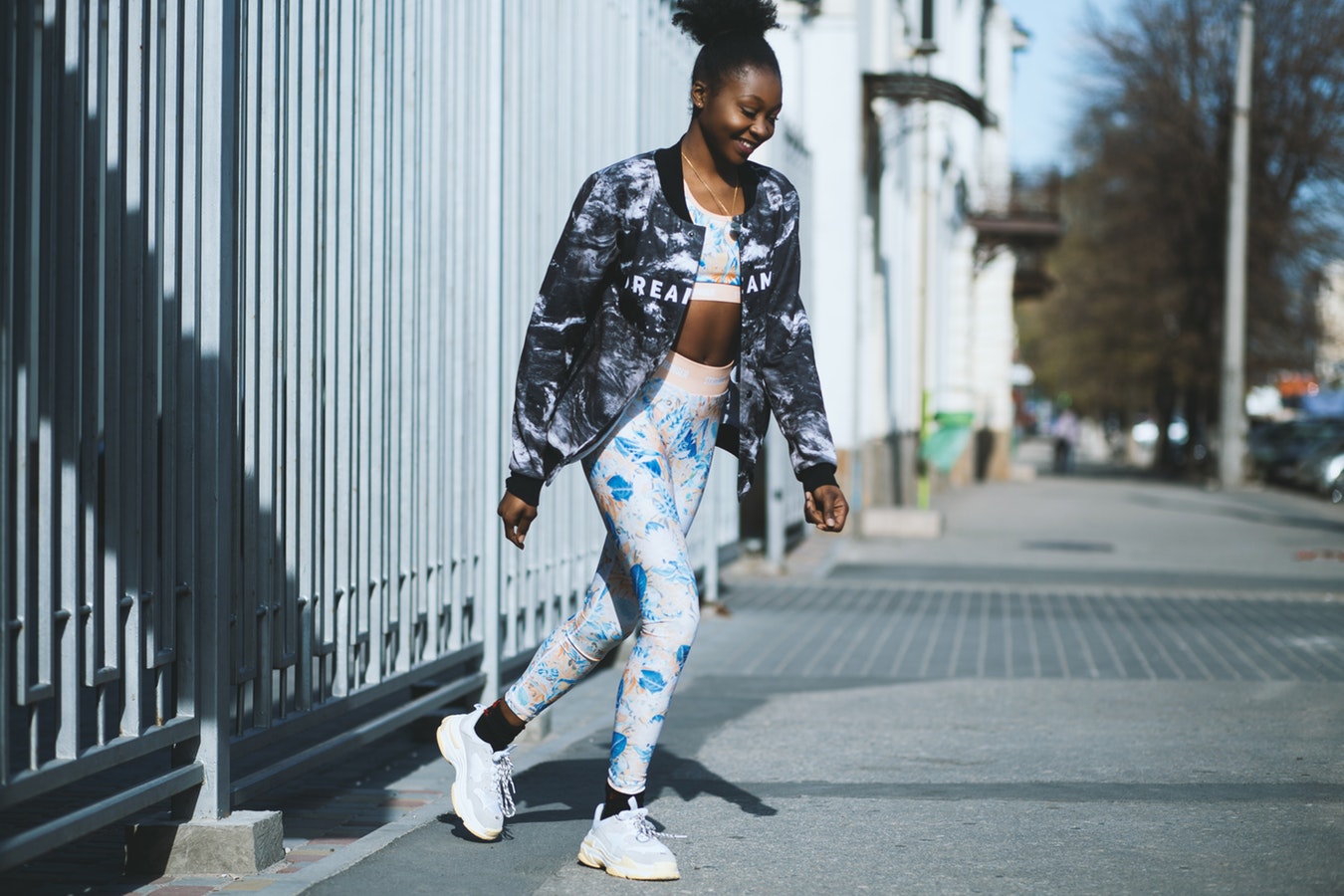 Types Of Leggings
Gym Leggings
The best types of gym leggings for women are those where you are able to have unlimited flexibility. This means you are able to squat further than you would if you were wearing shorts or joggers.
Furthermore, as the fabric can cling to your legs so tightly, it can often feel like you aren't even wearing them.
Comfortable when running or cycling, when wearing leggings there is no need to worry about the possibility of your joggers or shorts riding up your legs into an uncomfortable position.
However, unlike most items of clothing, the leggings for working out you require will not be dependant on your training styles and any goals you may have. In fact, probably one of the biggest decisions to make is what colour, design and style to choose.
Women's Running Leggings
When looking at women out on a run, most often you will see them wearing leggings. This is as they are a comfortable item of clothing. Leggings allow your body to make as large a stride as possible. Additionally, leggings with pockets allow you to securely take your house key and phone with you.
For the keen runners running throughout the year, we recommend finding workout clothes with reflective trimmings so that you can be visible at all times of the day.
Capri Leggings
Designed for those looking for short, cropped legwear that is still fitted, Capri leggings are a popular item of clothing for both exercise and for fashion.
Generally, you can expect Capri leggings to finish between the ankle and knee. Most often the lower calf, ideal for those exercising in a warmer environment. Furthermore, Capris are best suited to exercising or practising yoga. Some may even include zips at the lower end of the leggings to allow for additional comfort around the calf area.
In addition, usually, Capri leggings are made using thicker materials. This may make you believe they are similar to tights. However, the difference is Capris do not cover the foot as well as the fact they are unlikely to be transparent, making them ideal for stretching. The fundamentals of Capri leggings are that they are thick and stretchy. Therefore, the materials used could include cotton and spandex.
High Waisted Leggings
Experts at flattering anyone's figures, high waisted leggings have the ability to elongate the leg, slim the hips as well as hide that extra serving of pudding you had before bed last night.
However, wearing an oversized T-shirt is not recommended to pair with your leggings. Yes, it'll provide ultimate comfort, but if you're wanting the visible results of wearing high waisted leggings, a crop top or sports bra is advised.
Furthermore, pairing your leggings for summer with a crop top or sports bra enables you to have an effortless style, allowing you to feel like you're looking good whilst working out. Although, make sure your leggings do not go too high up your waist as you may find this restricts your movement.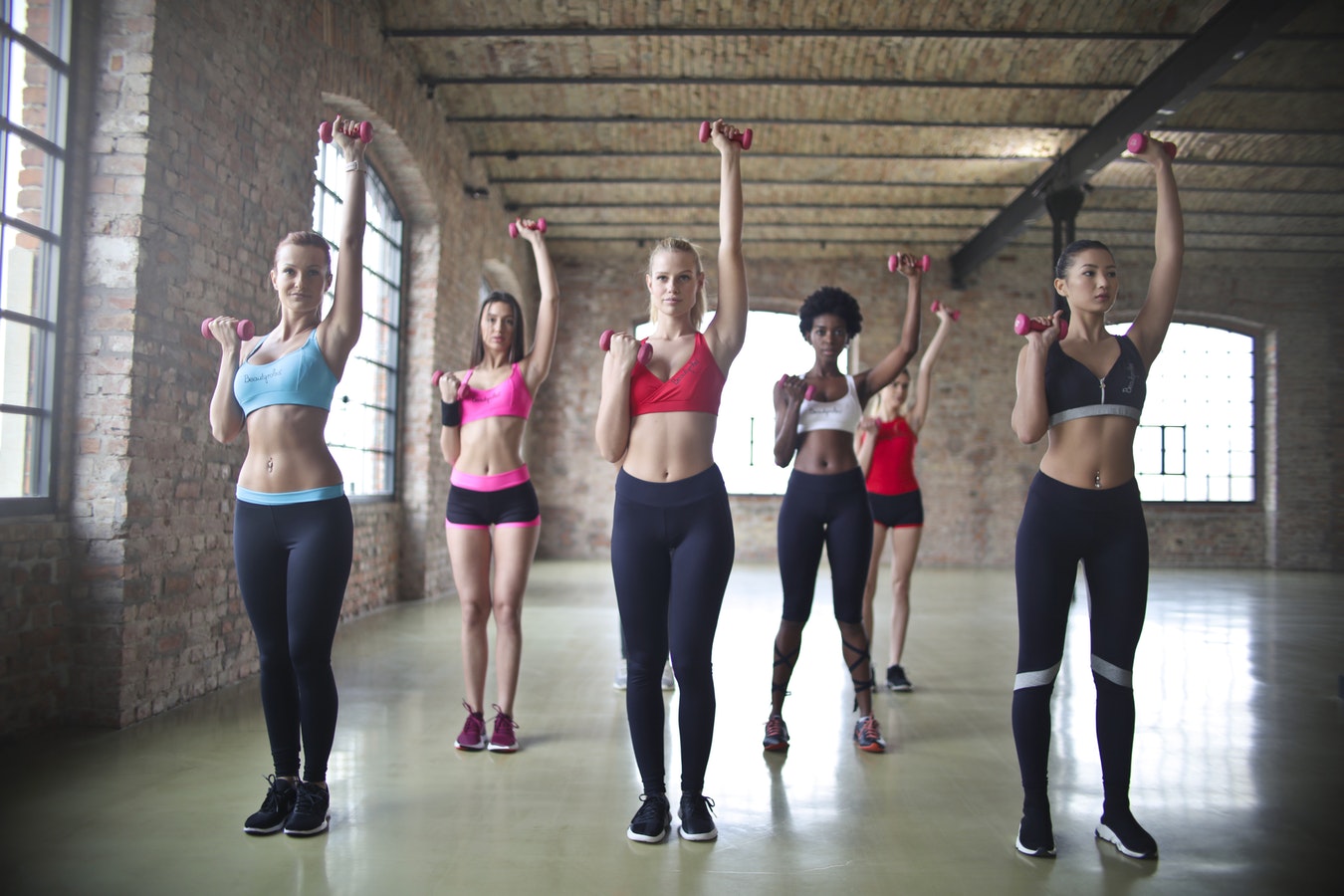 Best Fabric for Leggings
Once you know what style of professional leggings you are looking for, the next tricky task is to determine which is the best fabric for you. Do you need a thicker legging that will be able to keep you warm on your cold walks to the local shop? Or do you need a thin fabric which has the ability to absorb your sweat and keep you smelling fresh throughout your workout?
Bamboo Leggings
Bamboo is a highly effective fabric to use for gym clothes. Not only is the fabric light in weight and breathable, it also has the ability to protect your skin from UV rays. Perfect for exercising outside when wearing sun cream is the last thing on your mind.
In addition,bamboois moisture wicking, meaning it is highly sweating absorbent and will be able to keep you fairly dry during your workout. This feature combined with the knowledge that it is antibacterial means you can be reassured that you will be odour free and smell fresh before, during and after your workout.
Additionally, as the bamboo is natural the fabric is very unlikely to cause allergic reactions. One of the softest fabrics on the planet it is also very environmentally friendly. Therefore, not only can you exercise in bamboo leggings in comfort. Whilst being kept cool during summer and warm during Winter. You can also feel good about helping the planet too.
Wool Leggings
Wool is amazing at regulating heat and therefore is efficient at keeping your body warm. Alternatively, due to its impressive ability to respond to the weather around it, wool is able to move moisture away from your skin at a quick pace or a slow pace depending on the environment you are in and the temperature of your body. This is as it has evolved over time to help keep sheep comfortable all year round.
In addition, although not entirely waterproof, wool can survive a light shower easily by absorbing the water without feeling cold or wet. Not only that, it is one of those fabrics you don't need to wash too often if you don't want to. In fact, most of the time, natural woollen clothes can be worn again after hanging out in the air for a period of time.
However, if undergoing heavy exercise in woollen clothes, it is recommended to wash the gym clothes as regularly as possible. Due to its year-round use, wool is an excellent material to look for when looking for comfy leggings that will feel good on your skin.
Tencel Leggings
Tencel is perhaps one of the lesser known fabrics for ladies leggings. However, it is becoming increasingly popular as it has a unique luxurious texture. This can be described as cooler than linen and softer than silk.
Furthermore, it can be said that Tencel is more eco-friendly than similar fabrics. This is as it utilises a system where 99% of the chemicals and solvents used in the breaking down of the wood pulp process are then recovered and recycled. Therefore causing minimal waste as well as low emissions.
Furthermore, when looking at the fabric for use in travel leggings, in most cases, Tencel can be said to be wrinkle-free. This is as Tencel blended with cotton enables a luxurious feel of silk.
Additionally, yes Tencel has the potential of shrinking by 3% on the first wash, but after that, it will resist. These two features combined with the breathable functionalities means Tencel is a great legging option.
Nylon Leggings
One legging fabric with numerous advantages is nylon. Nylon is lightweight but has exceptional strength. It is easy to wash and is resistant to shrinkage and wrinkles. In addition, the fabric is fast drying which is useful if you are likely to get sweaty during your workout.
However, nylon has poor resistance to sunlight. This may be a problem if you are looking to wear nylon outdoors. Especially if for a large amount of time. For example whilst you are out on a run, walk, hike or even while doing yoga in a scenic area.
Cotton Leggings
There are a number of advantages to having cotton as the fabric to make up your leggings. One of the most important factors is the moisture control that cotton has.
As a fabric, cotton is able to move moisture away from the body. Cotton can also absorb and remove liquid from the skin. This means you are unlikely to encounter a build up of moisture between your skin and clothing when exercising. Therefore allowing for optimum comfort whilst exercising.
Furthermore, insulation is also a much-appreciated characteristic of cotton. This keeps you cool during the warmer months and warm during the colder ones. This is as the cotton fibres help keep the fabric away from the skin. Therefore allowing air to be trapped between both the fabric and the skin, which ultimately helps in insulation and comfort.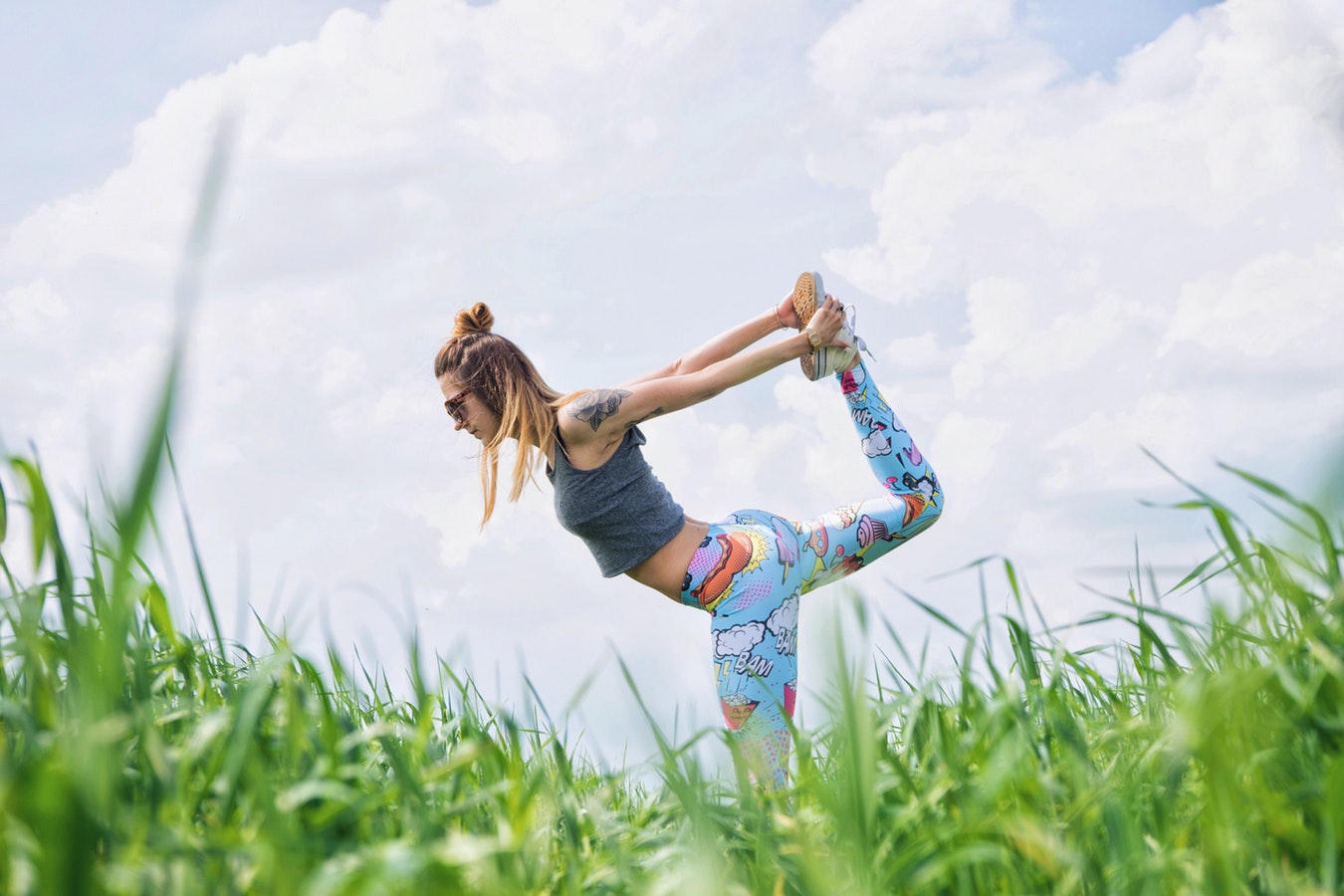 Conclusion
The time is now to be finding the leggings perfect for you. This is as they are a fashion item that we believe is unlikely to disappear anytime soon. In fact, many of us even prioritise wearing leggings over jeans. Why? Here are 5 Reasons Why Leggings Are Better Than Jeans.
But, finding the perfect leggings for you can be a nightmare if you are unsure what you want specifically. Falling down the hole of looking at hundreds of different leggings on hundreds of different websites is nearly inevitable.
However, once you understand your reasons for wanting leggings, finding the perfect fabric and style for you can become much clearer. For instance, when looking for leggings to wear under a skirt or dress during the colder months where woollen leggings may be your best option.
On the other hand, many of us want workout leggings where we can flaunt our abs. Therefore, bamboo Capri leggings with a sports bra may be your best bet. Alternatively, if you are wanting to exercise in comfort with the confidence that your body is hidden, high waisted leggings with a shirt could be ideal.
And, if you are still unsure about which are best for you, why not purchase a few cheap leggings. These should be varying in style and fabric first. Then alternate which you wear for different occasions. Eventually, you will have a favourite pair which may help you decide what to purchase in the future.
If you are still unsure, take a read of our guide on how to choose the best workout leggings and best leggings for women.
Leggings Reviews
Girlfriend Leggings review
LuLaRoe Leggings review
Gymshark Flex Leggings