You've probably heard of Yoga, but Beer Yoga? Have you considered taking yoga's mindfulness and combining it with the pleasure of beer drinking to reach your highest level of consciousness?
Beer Yoga began in Germany and is now being practised all over the world! So whether you're a beer lover who likes yoga or a yogi who loves beer, make sure you bring your ID if you take this class!
Being a woman and finding the perfect women's tops to wear for any occasion is no easy task. For instance, when working out, do you want a loose fitting or a tight fitting top?
Once more, is a crop top or a tunic top appropriate for doing your daily cardio routine? Are you planning to try this new exercise trend?
Make sure to choose your perfect women's tank tops in your closet. You can wear your off-shoulder tops, bikini tops or your cute women tops.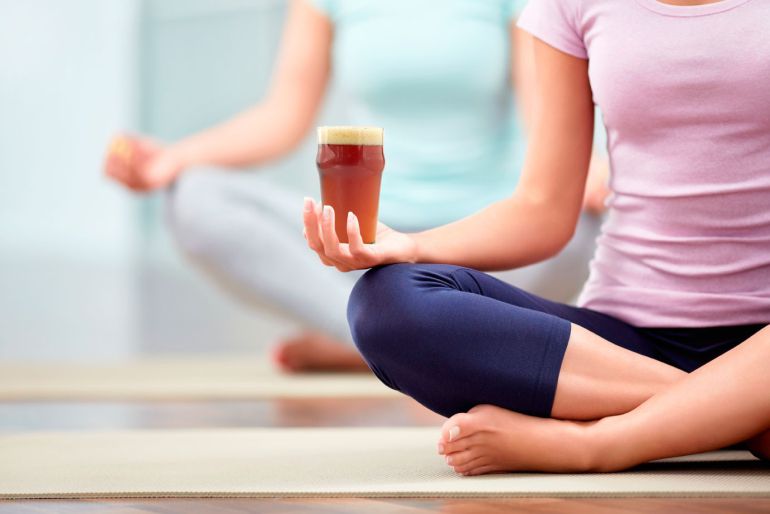 Bottoms Up!
Yoga is already hard enough to do, but with Beer Yoga? This will surely make your exercise routine of choice a little sloppier. So what you should expect in this class? Naturally, once you attend a yoga class, expect a typical yoga class. Except that each attendee, including you, will own a bottle or a two of beer over the course of the experience.
This class actually consists of a regular yoga class session followed by the consumption of a beer. What you really want here are the classes that incorporate the booze directly into the class—for example, students are sometimes asked to attempt to balance the bottle on their heads while holding the instructor's pose of choice. Beer yoga is, presumably, a decidedly party foul–friendly environment, according to GQ.
Germany's BierYoga a.k.a BeerYoga bills itself as the "marriage of two great loves—beer and yoga. Both are centuries-old therapies for mind, body and soul." The founder and a yogi, Jhula wrote that BeerYoga is fun, but it's no joke. They take the philosophies of yoga and pair it with the pleasure of beer-drinking to reach your highest level of consciousness.
How to Do Beer Yoga?
Are you curious how to do Beer Yoga? Well, you just have to take a sip from your beer bottle, apparently. Together with a twist and turn your body in various postures in an hour-long session of yoga. The bliss of tasting beer and the peace of performing asanas may rivet you into its pleasure.
Who Can Do Beer Yoga?
"For beer lovers who like yoga, for yogis who like beer or for anyone who is beyond 16," BierYoga states. What are you waiting for? You can check out their Yoga Beer activities on their Facebook page.
Finally a workout we can get on board with.

Posted by Tastemade Travel on Friday, 13 July 2018
So How Can Beer Yoga Be a Good Thing?
We've been so excited to try this thing out, but are we entirely aware of what Beer Yoga can do in our bodies? Let's look at the "pros" of this type of yoga, according to Fit Day.
It's enjoyable. If there was ever a yoga created to make you feel good, this is it. Not only do you get the mood-boosting effects of the yoga workout, but you add the delicious, relaxing benefits of beer into the mix. The result: an exercise you can't help but love.
It encourages enlightenment. Yoga is all about reaching a higher level of consciousness, and nothing opens up your mind quite like alcohol. It may sound silly, but the relaxing effects of the beer can help with meditation, mindfulness, and the consciousness practices of Yoga.
Improves balance. The beer bottle is used as an essential part of the workout, and you have to transition through the movements without spilling or knocking over your beer. Think of trying to do Tree Pose with a beer bottle balanced on your head, and you've got a pretty good idea of how useful the addition of a beer bottle can be.
Of course, if Beer Yoga has pros, it also has its cons.
Beer can be hydrating. The cause of its high alcohol content, this yoga practice can impair your exercise performance. It's more of a fun workout than a truly effective one.
Carbonation effect. Expect to experience the unpleasant feeling on your stomach if you'll do some twisting yoga poses. The compression in your stomach will lead to a higher risk of burping and farting.
Neither of these is physician-recommended. You've also got to take into 

account

 the fact that you're consuming alcohol and empty calories while exercising. If done during high-intensity exercise, you could end up dehydrated. Thankfully, beer yoga isn't high-intensity, but it's a low-intensity, steady-state exercise that focuses more on flexibility and balance than actual muscular development.
Open Mind and a Love of Beer
Perhaps this Beer Yoga is the new fitness craze for beer lovers. But to be honest, this one is just another trend that mixes the benefits of yoga with something else we, humans, love to do. So, what do you think about this?