Let's imagine this scenario. You're going to the gym to sweat and to torch all the unwanted calories in your tum-tum. Whilst walking, you happen to bump into an unfamiliar equipment.
A Rowing Machine. "What does this machine do for my body?" Your conscious thought so.
Every piece of equipment you see in the gym have their own purpose in your body. Some might be familiar, some might be new to your naked eyes. In this article, we will converse about the immense importance of a rowing machine.
Don't worry, if you think you're the only human who doesn't know about this, well, you're not. After reading this article, we assure you, you will never ignore the rowing machine for the rest of your life.
Doing this your workout routine will never be the same without the best workout clothes for women and the best men's workout clothes. So before heading to the gym or your favourite workout spot, make sure to pick your best workout outfit!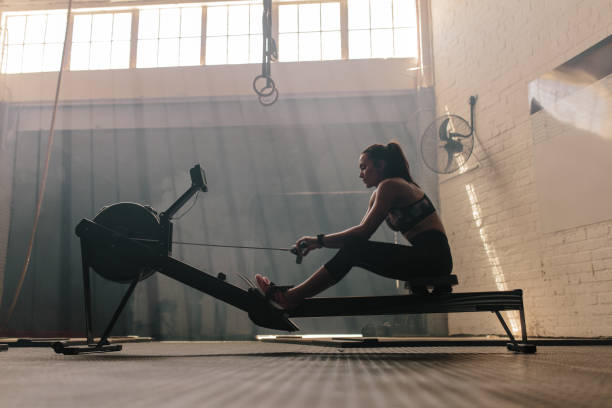 What Does a Rowing Machine Do for Your Body?
You don't have to endure your body with backbreaking heavy weights or use the treadmill for an exhausting run to get in shape. The rowing machine is low-impact and it's easy for all ages and fitness level.
This machine is perfect to improve your overall health and it's a fantastic way to tone your whole body. Yes, it's a total-body workout!
Using this equipment will make you feel you're rowing a boat, so your lower and upper body are needed to complete the strokes. Using your entire body is a must for you to be able to complete a full stroke each set.
Benefits of Using a Rowing Machine
Maybe it's time for you to give this machine a chance and thank us later. Here are the reasons why a rowing machine deserves a place on your workout list.
If you're looking for a total-body workout, rowing is the answer. It predominantly works on all the major muscle groups. Not just that, it works on both lower and upper body.
Rowing is low-impact and high-intensity. Let's talk about a Win-Win situation here. You can torch those unwanted calories in your tum-tum without putting yourself under excess pressure.
Rowing may look hard as it looks, but it actually suitable for elderly people. Owing to the fact that it's a low-impact, the machine can be used by people with joint problems.
Considering this machine is easy to use, meaning it has a lower risk of injury.
It has been proven to improve your cardiovascular fitness and it's an effective aerobic exercise. It promotes and keeps your heart and lungs healthy.
You can say goodbye to your calories after performing a few exercises. This is a great tool to torch fat, whereas it is suitable for to HIIT training.
It burns fat and builds muscle at the same time. Another Win-Win situation here.
Lastly, not only that the rowing machine is adaptable, using this equipment is convenient and efficient.
If a fitness game changer is what you're looking for, congratulations because you're in the right article! There are so many workout tools out there that are perfect for a total-body workout, but a rowing machine is really something.
Prepare your heart to pump and your lungs to work with this effective and beneficial aerobic exercise!