You've probably heard of yoga, especially when you're a yogi. But have you considered taking yoga's mindfulness and combining it with the pleasure of the water? Plunge yourself into the pool and get ready for your aqua yoga class.
Aqua Yoga is just another trend that mixes the benefits of yoga with something else we, humans, love to do. Mermaid Yoga, Beer Yoga, Doga, and such, pretty much you can do anything with yoga.
Realistically, in order to achieve an effective workout whether that be in the gym, outside or in the pool, the correct choice of women's bottoms is crucial.
Make sure to choose the best bottoms before taking this aqua yoga class!

What Is Aqua Yoga?
Like most forms of water exercise, besides swimming, aqua yoga is a super low impact. Making it an ideal way for people with joint pain to improve their strength, flexibility, and range of motion.
As Katherine Winge, who is trained in Aqua Kriya Yoga and teaches in Austin, Texas, explains:
"The buoyant effect of the water takes the pressure of a person's weight off the joints, alleviating pain or discomfort people may feel when exercising. Since the body bears less weight in the water, the muscles are relaxed and therefore can be stretched and strengthened with less incidence of injury. I have seen a wide variety of people benefit from aqua yoga, including those with arthritis, hip and or knee replacements, multiple sclerosis, fibromyalgia, muscular dystrophy, anxiety, depression, pre-natal, post-natal, post-surgery, people with difficulty balancing, sciatica, and beginners as well as people who already have a regular practice."
Naturally, you don't have to be an expert swimmer to do this practice. You might be surprised by what you can learn and discover when you take this kind of yoga to the pool.
What to Expect
Many land poses are adaptable to the pool, especially when you use the wall as if it were the floor. This approach will be familiar to anyone who has done yoga in late pregnancy.
Plank, chaturanga and cobra are all done on the wall. Props like kickboards and those noodles can also come into play. Turns out, floating in savasana while supported by two noodles is pretty blissful.
To examine how water affects a familiar yoga pose, let's take a look at warrior III. On land, a lot of effort usually goes into keeping your leg up. In the water, the leg floats, freeing you to focus on other things, like the alignment of your hips.
Staying upright in a pose like a pyramid is not particularly hard for an experienced yoga student on land, but in the water, I found I had to engage my core and bandhas in a much stronger way, plus tread water with my hand, to avoid tipping over to one side. Though water yoga is great for students with a low range of motion, it actually has a lot to offer any yoga practitioner interested in deepening her practice, including an unexpected amount of fun. Via Very Well Fit.
6 Aqua Yoga Poses
Practising yoga and meditation in water brings us back to basics. Here are the six aqua yoga poses from the Yoga Journal.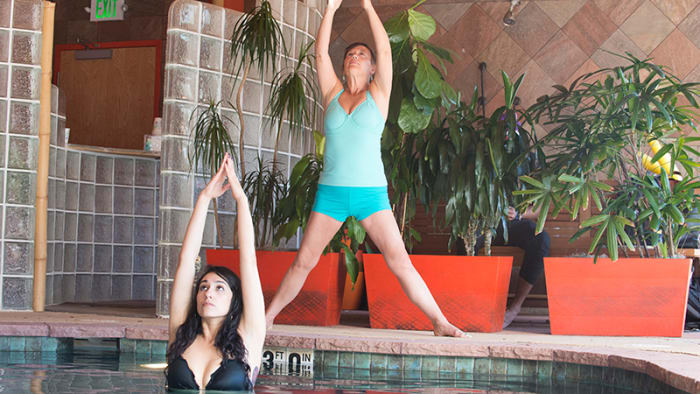 North Star Pose
Women's Bottoms Information
The Importance of Women's Bottoms
Women's Workout Bottoms
Types of Women's Bikini Bottoms