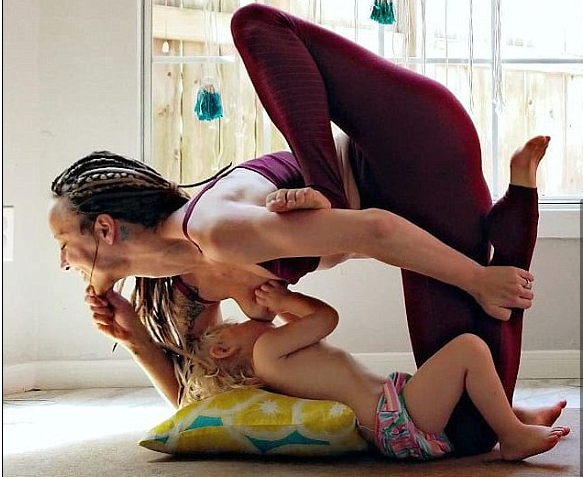 A mother from Texas does an extraordinary multitasking as she goes for yoga while breastfeeding her two-year-old daughter.
The 31-year old Carlee Benear explained how this activity helped her find a greater connection with her own body. Carlee sometimes used a sling to multitask but she also does it sometimes whilst wearomg sports bra and a women's leggings.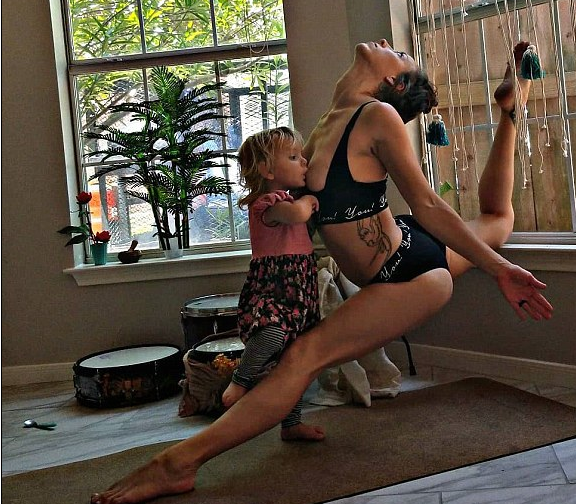 Greater Connection
Benear first fell in love with yoga when she suffered post-partum depression after giving birth to her second baby. The exercise helped her recovered from the post-partum depression she experienced during her first birth.
Through this, she did not just learn to be in the moment but also to establish a greater connection with herself and with her child.
This is why she continued her yoga session even during her third pregnancy, which gave her a good boost during morning sickness.
Asked about the benefits of doing yoga while breastfeeding her daughter Maramaylee, Benear said:
"Holding poses and breathing while nursing helps me connect with my body and be more present.  Anything can be challenging if you let your mind get in the way. I think that's one of the things breastfeeding yoga has helped me move past and it's helped me to believe in myself again."
She continued:
'Staying in poses is big in yoga as it helps you be in your body and connect with your body during the ups and downs of breastfeeding.' 
"I am always aware of my daughter around me and I adjust my flow to her because she loves to sneak snacks at any time, so I need to be ready for her to pounce. There is good in this because it is yet another reminder to be present. Now, yoga helps me be the mother I always dreamed of being because I can enjoy every moment to the best of my abilities."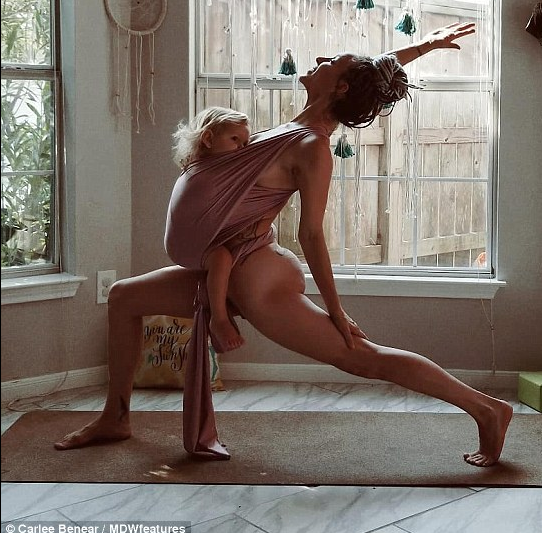 Enjoying Life
Noticeably, it seems that yoga has also developed the mindset of Benear as she stressed the importance of slowing down in life and enjoying it.
"I wanted to connect more with myself as the transition into motherhood can make you feel like you lose yourself, or that you're turning into a new person with new responsibilities. One of the benefits of doing yoga is the ability to slow down and enjoy life again in such a fast-paced world. We raise our kids with this pace and it's more damaging than it is helpful to them for the real world."
As she manages to take everything slower, she masters the act of thinking the consequence of her actions before she reacts.
"Yoga showed me patience with myself and patience with my family as well as for everyone I interacted with. The practice also helps you see things differently. We are often so fast to react, we forget that this is not a race and we can sit and think before we take action. It really helps show the power of a mother and her ability to do great things for herself and her family at the same time."
Watch her on the video below:
To find out about the best sports bras take a look at our blog. Which outlines the best cute sports bras and tells you how you can get the best girls sports bras.