We've discovered another way to add extra fun in your workout routine. Let us introduce to you the Aerial Fitness. You might have heard of this workout anywhere, but thank me later because this exercise will have you flying for joy!
Having the perfect outfit for this exercise is a must. You'll want to make sure you wear your perfect workout leggings. It's either your leather leggings, mesh leggings or your yoga leggings! As long as they won't ride up.
And of course, you have to choose the right spot for you!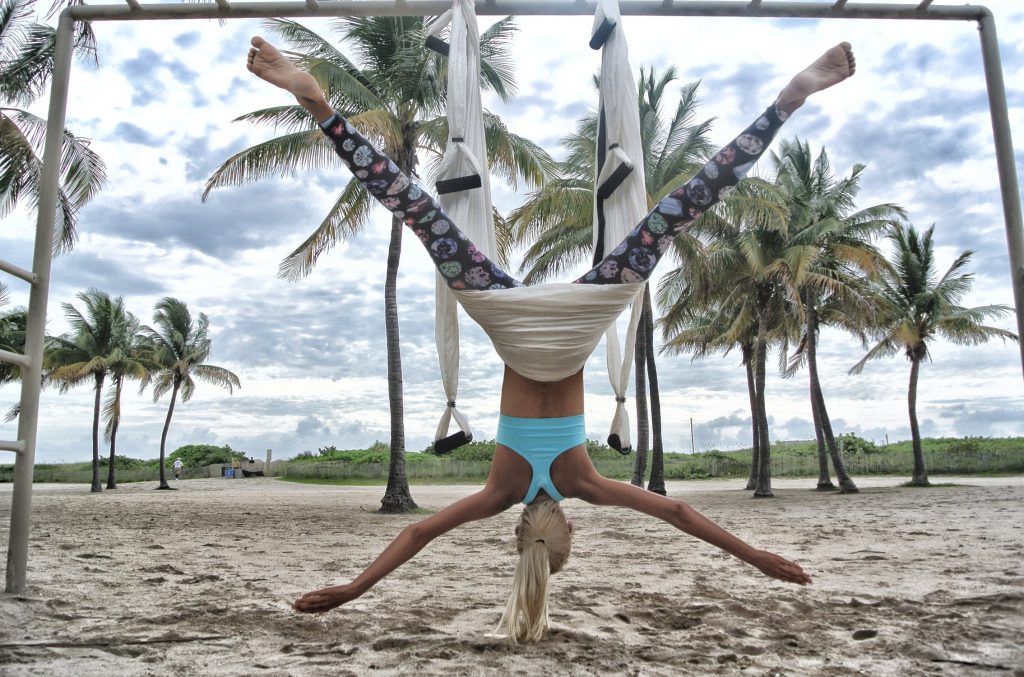 All You Need To Know About Aerial Fitness
Aerial 'Yoga' Fitness is just another trend that mixes the benefits of yoga with something else we, humans, love to do. Mermaid Yoga, Beer Yoga, Doga, and such, pretty much you can do anything with yoga.
This kind of yoga is a combination of traditional yoga poses, Pilates and dance. It is inspired by aerial gymnastics and callisthenics. The photo attached above might look scary, but your body weight will be supported by a hammock.
A hammock is a swath of soft fabric that's suspended from the ceiling. It will support your body in the poses which allow your body to work against gravity, helping you get deeper into stretches.
Don't worry about the yoga poses that are difficult to do on the ground. With a hammock, it will allow you to perform various poses that are easier to achieve in midair.
The Health Benefits of Aerial Fitness
Weight Management
Because of the physical effort required in this workout, expect to torch 300 to 400 calories in an hour! Due to the movements, your muscles will get toned and defined. This fitness will not just furnish you with weight loss, but also provide you with a total body workout.
Physical Fitness
The good thing about Aerial fitness is, no matter what age you are, your muscle strength will increase as well as improving your flexibility and balance. When you have given the chance to hang freely, grab it. That will allow you to your spine to lengthen. According to Health Fitness Revolution, with less strain on your back, while doing the exercises, it eases tension in the spinal cord and hip joint, helping you feel better and heals back problems.
Mental Health
According to the book ReSYNC Your Life Samir Becic, via Health Fitness Revolution, just like almost any other workout, aerial yoga helps rebuild your emotional system. It clears the mind and relieves stress due to its meditative state. It also helps you combat stress throughout the day and increases your creativity, which leads you to develop your own artistic skills.
If you have become bored with your current workout routine and you're looking for something fun with great benefits, Aerial Fitness is just around the corner. With the fun and amazing health benefits provided, there's no excuse for why we should it.