A former Olympic gymnast is shutting down stereotypes against elderly as she shows that she can perfectly execute a split and a headstand at 84 years old.
Marjorie Carter, who represented Great Britain in two Olympic games, gave her gym routine a big credit on why she keeps herself young.
No wonder, any types of workout leggings, whether it is a fleece lined leggings or leggings with pocket, will look beautiful on those strong legs.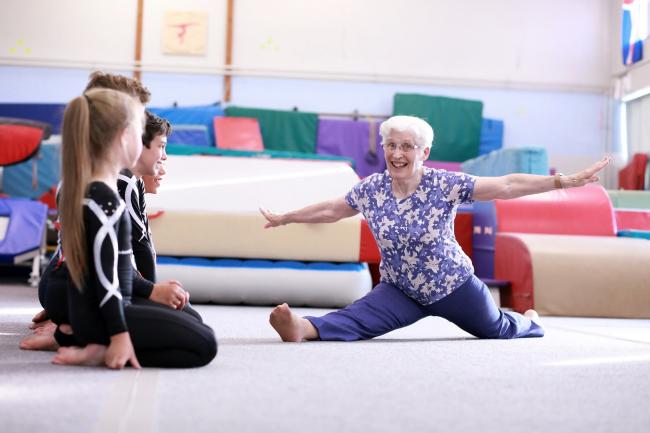 Keep Moving
Carter competed in the quadrennial sporting tournament back in 1952 and 1960.  She started playing the sport at the age 10. But just eight years after, she became a part of the British squad in the world's biggest sporting event.
"Being selected to represent my country was truly exhilarating. It was such an honour and those memories of the opening ceremony will last a lifetime. Everyone is always blown away when I tell them my story so that's always nice to share."
But every journey has its end. After representing the country in two Olympic editions and years of participating in different competitions, she decided to call it quits and focus on training young athletes. She has been a trainer and a coach for over 20 years now.
Now at 84 years old, the ex-Olympian is showing no signs of slowing down as she remains to be a gym star, who performs splits and headstands with ease. She said she wants to inspire older people in remaining active and fit.
"You need to keep moving. "It's so important when you get older to maintain that independence and mobility. As they say, use it or you lose it. People in the gym always say, 'You inspire me so much', which puts a huge smile on my face and keeps me motivated. It definitely helps keep me young."
Determined
Showing that she still got her A-game, Carter topped a nationwide Inspirational Generation competition held recently. The competition aims to celebrate the achievements of older people, with homebuilder McCarthy & Stone acting as the brain behind the contest.
For bagging the top prize, she received $2 000 in cash and another $200 to be donated to a charity she wants.
 "I didn't think I'd win, so I was absolutely overwhelmed to get that call. I had to take a minute to come to terms with it all. It was a true honour."
Carter goes to training three times a week and regularly starts at 6 am, which shows that she remains committed to keeping his body fit at her age. She aims to be doing those gymnastic stunts even if she reaches 100.
Watch her gravity-defying stunts in the video below: