We have to accept and embrace the fact that we come in different shapes and sizes. These workout exercises are perfect for every body shape and it will bring out the best in your body shape!
There are 5 typical body types:
The Pear
The Apple
The Inverted Triangle
The Hourglass
The Ruler
Richard Woolrich, biokineticist and personal trainer at Virgin Active, believes that training for your own shape means you set realistic and attainable goals and you balance out your physique in a way that brings confidence.
Doing this your workout routine will never be the same without the best workout clothes for women and the best men's workout clothes. So before heading to the gym or your favourite workout spot, make sure to pick your best workout outfit!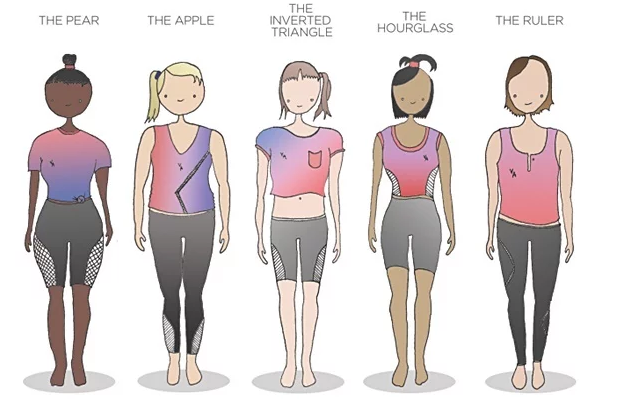 Pear Shaped Body
People with pear or spoon body have a well-defined waist. Your bust and shoulders are also proportionally narrower than your hip-line.
Most of your weight is located on the hips, bottom and thighs. The good news is you probably have a flat stomach, even without doing lots of abs.
Another way to describe the pear body shape is wider hips and thighs, wider bottom, but slim abs and arms. That being said, the challenge here is to work out your butt and legs more, so you get them in proportion with your upper part of the body.
However, even though the trouble zone is your thighs and hips, you want a stronger and defined upper body that will balance out your shape.
Perfect Workout for Pear Shaped Body
Jumping Jacks
Push-ups
Plank Leg Sweep
Brisk Walking
Apple Shaped Body
Individuals with an apple shaped body to look round, or at least that is what their appearance suggests. Your waistline is wider than usual, giving a perception of being overweight.
There is no definition at the waist, and it is what you must work on. As you might have guessed, most of your weight is located in the midsection.
The good news is you have slim legs.  But the best and the simplest definition is to say that the apple/cone body shape is the opposite of pear/spoon body shape.
The troubled zone here is the belly, and the solution is to focus on your core.
Perfect Workout for Apple Shaped Body
Push-ups Climber
Lunges
Squats
Spinning
Jumping Jacks
Stationary Biking
Inverted Triangle Shaped Body
This type of body shape is also known as "the swimmer's body". You possess this shape if your hips are narrower than your shoulders and when your shoulder is fairly straight and squared. You can also consider your slight curve waist.
Perfect Workout for Inverted Triangle Shaped Body
Squats
Lunges
Deadlifts
Twisting type exercises
Hourglass Shaped Body
Arguably one of the most popular, and the body shape many girls crave for. Few are lucky enough to have it, and others try to get it with clothes and accessories. But back to the curvaceous beauties, let's talk about the exercises you need and want.
I know you understand what the hourglass body shape looks like, with a bust and shoulders at the same width as the hips, a defined waist that is smaller than the hips. The best part of having an hourglass body shape is that when you gain weight, the fat stores evenly throughout your body, looking proportionately curvy.
Perfect Workout for Hourglass Shaped Body
Cardio Exercises
Stationary Bike
Jumping Jacks
Swimming
(Even) Dancing
Ruler Shaped Body
Many classify the ruler or the rectangle body shape as the ideal. And that is very close to the truth, as the rectangle is very similar to the hourglass body shape, with a fairly straight up silhouette and a slightly masculine look.
The only downside is that you need to find a way to look taller and slimmer, but I will share that with you once we get to fashion advice.
Perfect Workout for Ruler Shaped Body
Long distance running
Long distance swimming
Sit-ups
Jumping Jacks
Take a look at these killer bicep workout