It's Doga time!
Who said humans can only do yoga? Did you know that a yoga with your dog will give you lots of health benefits?
That's right, benefits for you and for your dog! Yoga is definitely one of the best things you can for your body and mind.
Through its breathing exercises, meditation practices, strength exercises and stretching components, Yoga have been proven to have numerous health benefits.
Yoga has it all! But have you considered doing it with your dog? Make sure to pick your best leggings if you will have your yoga with your dog today! Just go for leather leggings or mesh leggings or go for yoga leggings!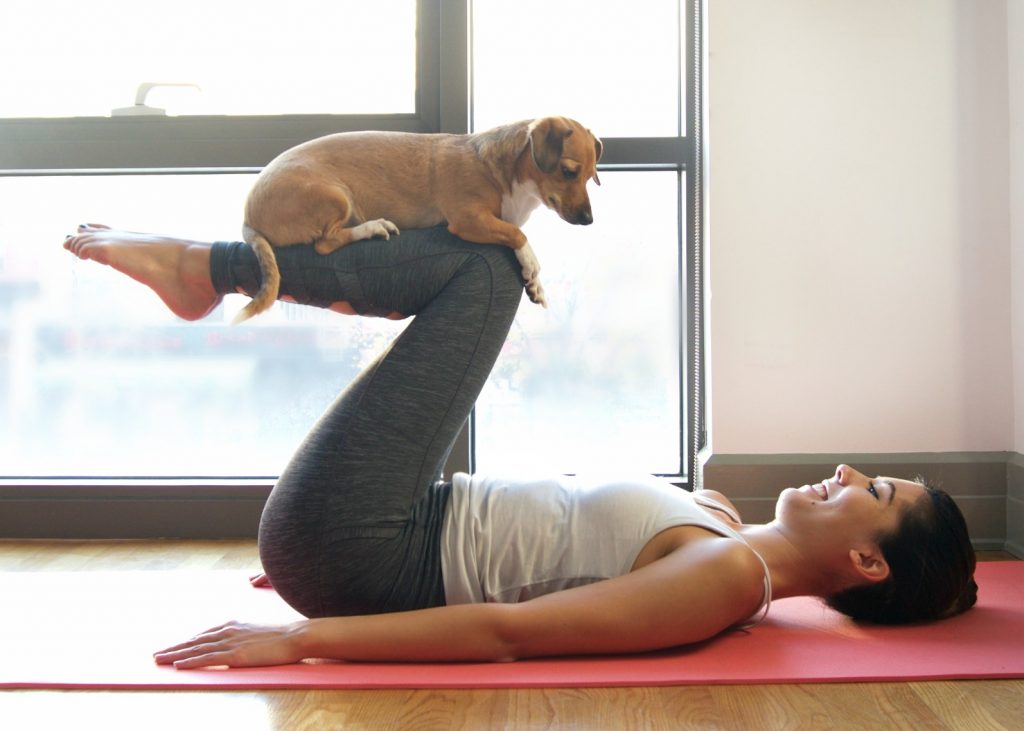 What Is Doga?
Have you heard about this emerging trend? Well, this exercise welcomes the four-legged creatures to engage in yoga with their two-legged companions.
It is the emerging trend that combines yoga and dogs. What a great and fun way to get some workouts for you and your dog.
Did you know that the concept of Doga was created by Suzi Teitelman who's a Jacksonville yoga teacher?
Dogs may not have the potential to do the normal yoga poses, they'd surely enjoy the stretching, some aspects of pet massage and soothing energy for which yoga sessions are famous for. Since you know what Doga is, it doesn't mean it should be forced upon a dog.
If your dog doesn't really seem interested, don't force him to do so. You should be mindful and try to listen to their dog's body language.
Yeah, watching your favourite movie with your dog is fun, but why don't try something new? You may add 'Doga Time' on your schedule once you've heard these benefits.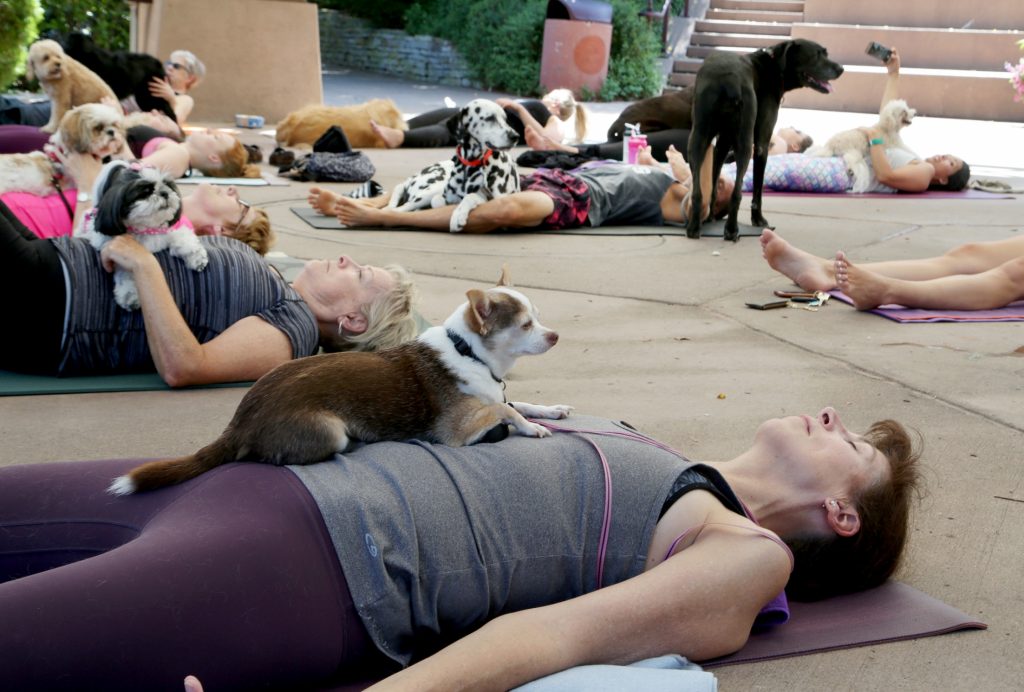 Benefits of Doga
According to Gaiam, here are the benefits and some of the reasons you may want to look into Doga yourself.
1. Bonding with Your Dog
While yoga's benefits for humans have been proven by scientific studies, there isn't much research about Doga's benefits for dogs. Except for this one.
Doga is a fantastic way to bond with your dog, especially when you do assist poses in which you and your canine work together, as partners. This can help your dog learn how to trust you and strengthen your relationship.
When you improve the bond you have with your dog, you also improve the potential for their behaviour correction and training. Doga requires relaxation and deep focus from both parties which can only help the bond grow, which becomes deeper and more authentic over time.
2. Physical Health Benefits
Even though Doga's health benefits are not backed by research, Doga is still a form of exercise for both you and your pup. If your dog is out of shape or overweight, Doga can be a good way to get a bit of much-needed exercise.
It can help them build muscle and lose fat if you practice it regularly. Any type of physical activity helps with blood circulation, and Doga is not an exception.
3. Relaxation
Relaxation and breathing exercises are the cornerstone of Doga and make up for a huge chunk of the entire program. It can work wonders for hyperactive dogs as it can calm them down and mellow them out. The exercise portion of Doga can help burn off some of your dog's energy, while stretching and massage will make them mentally calmer.
Of course, the best-shared benefit of Doga is that it can help you deal with stress and anxiety as well. In fact, mental stability is without a doubt one of the biggest benefits of yoga. There are plenty of other activities out there that probably do more for your physical health, but when you include the mental health benefit that comes from meditation and massage, yoga or Doga, is the best there is.
Doga for You and for Your Dog
4. Entertainment
Yoga can be a very fun activity on its own, then adding dogs to the mix is the best way to make it even more enjoyable! For most dog lovers out there, everything is more enjoyable when your pooch joins you, and yoga is not an exception.
Even though dogs can sometimes be a distraction for people when doing yoga, it is only because they are curious and not included in the fun, which is exactly what Doga does for them. As far as dogs go, they will certainly have some fun of their own.
5. Socialization
Doga is a great way for you to meet some new people, to hang out with other dog owners and socialize. This is especially true if you are not a big fan of crowded,  loud dog parks.
It will give you a great reason to get out of the house and maybe make some new friends. For your pup, being surrounded by other dogs as well as people in such a controlled and soothing environment can be the best way to get him or her used to strangers.
Some dogs are shy and anxious and they don't react well in social situations. For those dogs, Doga can do wonders to help them with their social skills, which means that they will become easier to handle on walks or anywhere else in public.
What are you waiting for? Start doing Doga with your pooch now!