Combat Sports Academy is a gym that emphasizes inclusion and specializes in Crossfit training for kids with autism. How amazing is that?
Combat Sports Academy in Dublin, California, is known for mixed martial arts and Krav Maga. It's the most comprehensive Combat Sports Training Center in Dublin featuring programs in all major aspects of Self Defense, Fighting and Fitness.
Make sure to choose your best men's workout shorts before going to CSA!
According to their official website, they have brought together some of the best trainers in the world, specializing in Krav Maga, Muay Thai, Brazilian Jiu Jitsu, Boxing, Wrestling, and CrossFit, all under one roof. A special space is being occupied by the Puzzle Piece Athletics, the first-of-its-kind gym for a special group of kids.
According to ABC7 News, they're held to the same high standards as those not on the spectrum, doing box jumps, squats pushups and more. Except with a special touch noticed by parents like Seth Hamalian.
"I think Chad has a demeanour about him that helps him remain very calm."
The man behind the success of the Puzzle Piece Athletics is the 10 year CrossFit enthusiast and trainer, Hooker. He started the program after his friend introduced him to a child with autism.
"I had never worked with anybody like that so I said I would be more than willing to give it a shot. He was non-verbal," Hooker said. "After working with this child for 6 months I saw all kinds of awesome things were happening. He would start saying these little sentences and seeing him grow from there was just outstanding. I was amazed to see how much this helped him."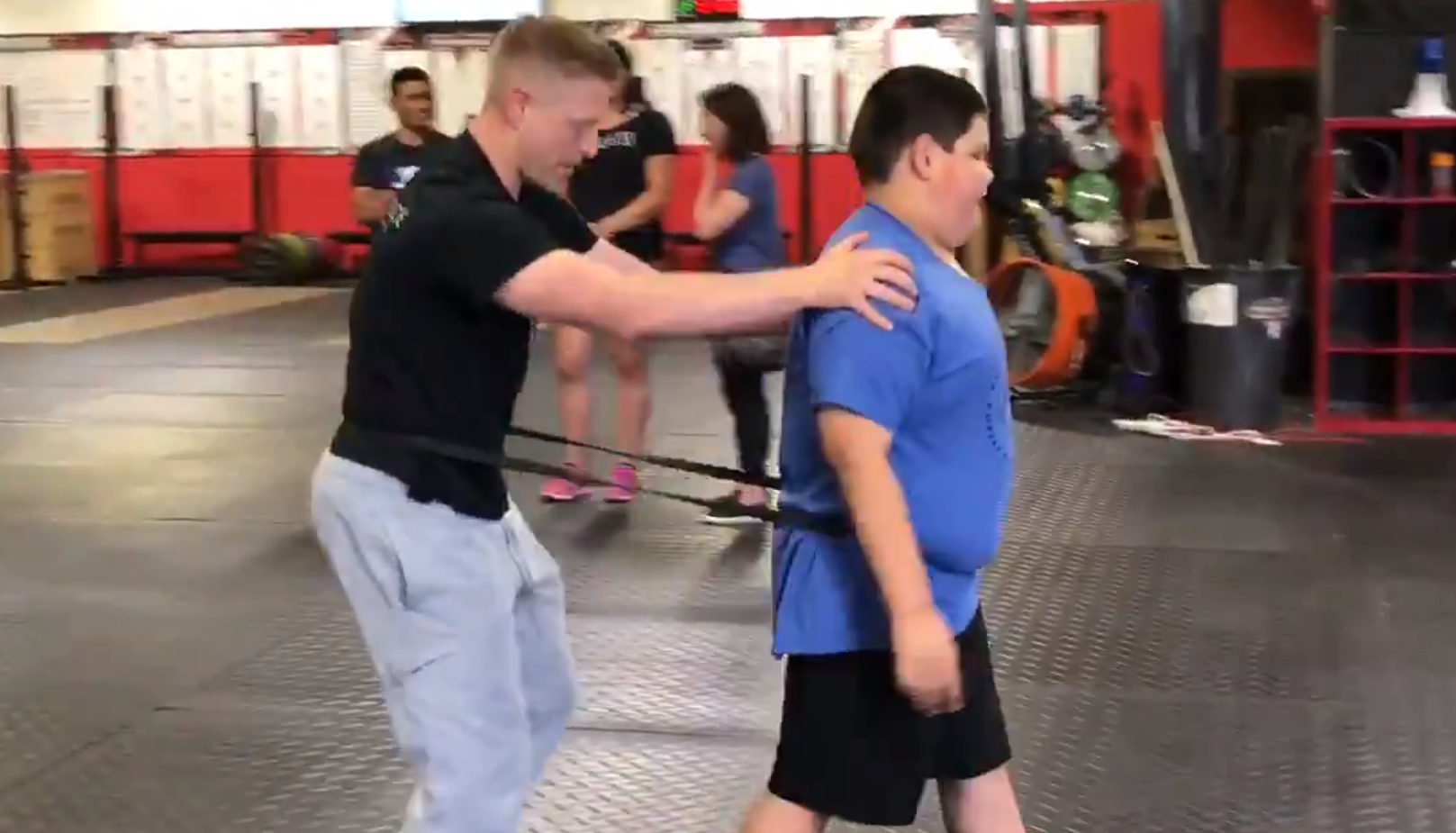 Beautiful Moment of Nathanial's Training at CSA
Nathanial, Tiffany Bakker's son, has been training with him every week for several months. ABC7 News Anchor, Dion Lim, posted a video of Nathanial's training with coach Hooker.
It's remarkable to see a kid with autism do CrossFit. Good job, Nathanial!
BEAUTIFUL MOMENT: Seeing Nathanial, who has autism do CrossFit

"Nathanial is a pretty tough kiddo and really hard to break through with him. He can be very anti-people sometimes but Chad just has a way with him," Tiffany said to ABC7 News. "He's so much more personable with people, he's able to say hello instead of running away and covering his ears. He is able to tolerate a lot of noise now and his activity level has gone up."

There haven't been a lot of studies about the benefits of exercise for kids with autism, but Dr Sara Schiff, a clinical neuropsychologist, believes Puzzle Piece Athletics is a huge step in the right direction.

"When you have social difficulties and you're not developing typically this is a game changer. There are pilot studies that are showing benefits of exercising with children with autism, we just need to build upon this. We know there is an improvement in mood when they're having these kinds of activities."

Nathanial is not the only kid that Hooker trains. He actually uses Pokemon books as prizes and as motivation to get his client to keep working out.

"Chad exudes confidence…& I think it grandstand over to Sammy!"

13-year old Sammy, Seth Hamalian's son, helps him with his confidence everytime he trains at Puzzle Piece. To Hamalian, the secret sauce behind Hooker's training is his ability to believe kids with autism can do more than what's expected.

"My son didn't have a comfort level with exerting force. He has a difficulty determining what's the right level of force. And you can see him become more comfortable in his own body and more comfortable in his strength and his own balance and awareness which is great."

ABC7 News reporter, Dion Lim, once again shared an amazing video of Sammy's training at Puzzle Piece on Twitter.

"Chad exudes confidence…& I think it grandstand over to Sammy!" ✨ Sammy has autism & his dad sees a big change in his son after he started working out

"This is the first time Sammy's been introduced to athletics in a gym. I think sometimes what happens with kids who are autistic is a lot of people lower their expectations and expect the kids to meet them there. Chad exudes confidence that they can do more than what they did the last time."

You're doing a great job there, coach Chad Hooker.

Chad has been getting requests from parents all over the world to bring Puzzle Piece Athletics to their country. One request recently came in from Dubai, ABC7 News reported.

Hooker's dream of opening gyms catering to those with autism just may come true. At this rate, and given the demand in Dublin already.

"I fell in love with it and it was a snowball effect. I love it and will never turn back."

Men's Shorts Information

The best types of workout shorts.
How to prevent chafing when wearing gym shorts
Do you know how short your workout shorts should be?