Not all of us have the time to go the gym. Maybe you don't have to go to the gym every day to sweat. Perhaps it's time for you to hit your favourite workout spot in your house this time! I do understand that not everyone has that luxury 'time' to hit the gym. Most of the women tend to have less and less time to exercise.
But, girl, you don't have to apply for an expensive gym membership just go get fit. But without some sweat at the gym or at home, you can't have that dream body you want. You have to work hard to achieve your dream body.
Once you find that light of motivation you've been looking for, you can try this beneficial and effective 10-week, no-gym workout for women. I can understand that you have no time for going to the gym. However, I have to tell you that after reading this article, you'll have no excuse for not exercising anymore.
This is the workout designed especially for women who have no time to go to the gym or who don't want to go to the gym. Or who don't want to pay for the gym. I don't care about the reason—now you can skip the gym and get your workout done at home.
But before you sweat and train insane, make sure that you're wearing your best workout clothes for women and best mens workout clothes. Let's start with the no-gym workout, shall we?
How Does the Workout Work?
The workout works if you follow the same set of exercises Monday through Friday. The complete workout costs nothing, and in 10 weeks, I guarantee you'll see results.
I just have to warn you not to expect miracles. After all, if you've been sitting all this time, and suddenly you decide to start working out, the results will take some time. But try this workout, and you'll see it's worth investing more time in exercise.
The complete routine will take approximately 20 minutes per day. I know Saturday and Sunday are scheduled for rest, but I suggest doing some yoga on those days, just so you can relax your body and prepare it for the week.
As for your meals, focus more on protein, carbs, and good fat (I don't suggest that you start dieting and lowering your calorie intake). The important thing is to source the good calories, which are protein, good fat (nuts, avocado, olive oil and similar), and some carbs. Of course, keep yourself hydrated, woman.
It is also important to know what you should eat before, during and after your workout. Fueling your body before your workout is really important. You don't want to faint while working out, do you? There are actually a lot of options out there on what healthy foods you should eat before, during and after a workout. Make sure the foods that you eat will keep your whole body, especially your heart running throughout your routine.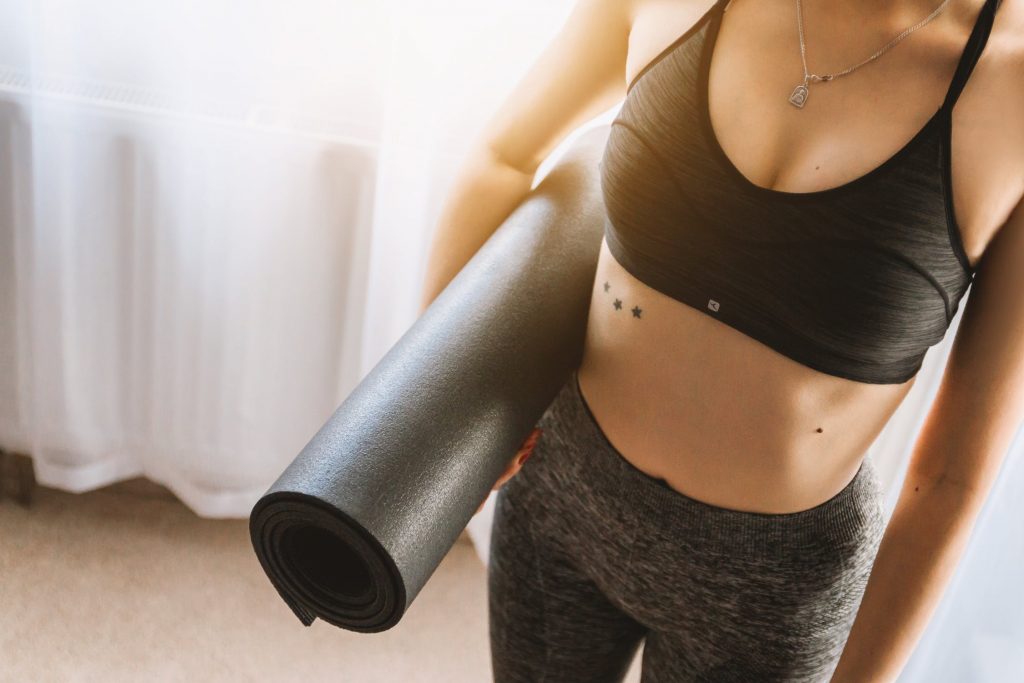 10-Week, No-Gym Workout
Here is the list of exercises you need to do on Monday:
Here is the list of exercises you need to do on Tuesday. You'll notice some repetitions:
A new day and a new list:
This is your highest intensity day:
The intensity is slowly decreasing now:
The weekend is designed for rest and yoga. I recommend you do some yoga stretches on Saturday, but you can also choose to rest. If you plan on doing yoga, it's important that you stretch your entire body. That means stretches for your back muscles, abdominal muscles, leg muscles, and arm muscles. Doing yoga will rejuvenate your body and get you prepared for the next week.
There's no need to do any exercise on Sunday, although I recommend doing some meditation. Yoga will help you calm your body and relax, but meditation will calm your mind and thoughts. You can also reflect on what you've achieved the previous week. And meditation is extremely handy in the first week of exercise. Or, you can always just rest. But when we talk about rest, we mean rest.
Good luck with doing these challenges! Hopefully, you can commit 20 minutes of your time per day to do the 10-Week, No-Gym Workout!