Here's to another extra bit of fun in your workout routine. Get ready to be fit in this stand-up paddleboarding workout!
You might have heard this sport just now. Some of you might haven't tried this. Most of you may wonder if paddleboarding is a good workout. According to The Outdoor Federation's 2015 Special Report on Paddlesports, U.S. participation in SUP has nearly tripled in the past few years, with 2.8 million people paddling away each year.
"SUP gets more muscles firing than just about any other activity," says SUP racer Kristin Thomas, executive director of the Stand Up Paddle Industry Association. "It's deceptively fit-producing, even if you're just a casual paddler."
You can easily burn 1,000 calories or more an hour in paddleboarding. Not like in max-effort racing, and even laid-back excursions can only burn 500 an hour. When paddleboarding in turbulent waters, the act of paddling taps on your shoulders, back and core are needed. You also have to pull significant overtime in your leg muscles to keep you upright and stable.
Swimwear is a way of enjoying the thrill of being in the water whilst keeping your modesty. Because let's be honest, we don't want to see everyone naked at our local swimming pool, and chances are you don't either. So, make sure to choose the modest swimwear out there for a better paddleboarding workout.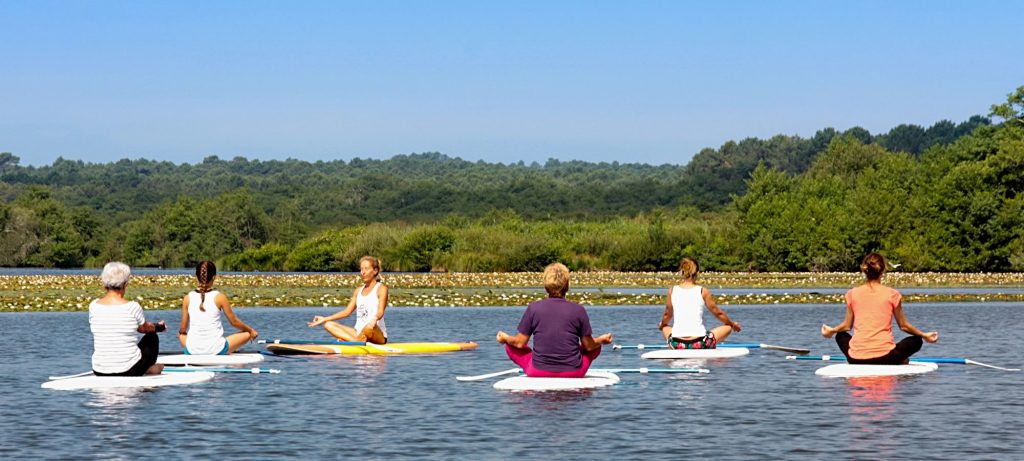 Is Paddleboarding a Good Workout?
If we're talking about one of the best workouts there, Paddleboarding is definitely one of them. Stand up paddleboarding can offer a fun and relaxing activity that most anyone can do.
As many people have heard, stand up paddleboarding is the best workout for a complete body workout. No wonder why people with all body shapes, sizes and ages are engaging in standup paddleboarding as a fun fitness activity.
This activity is a low-impact workout. It's a combination of balance, strength, and endurance.
It's not only an excellent core workout but also the toes, legs, back, shoulders, arms and neck which all work together. "Balance, strength, and endurance are exercised whether you are paddling or just balancing on your board."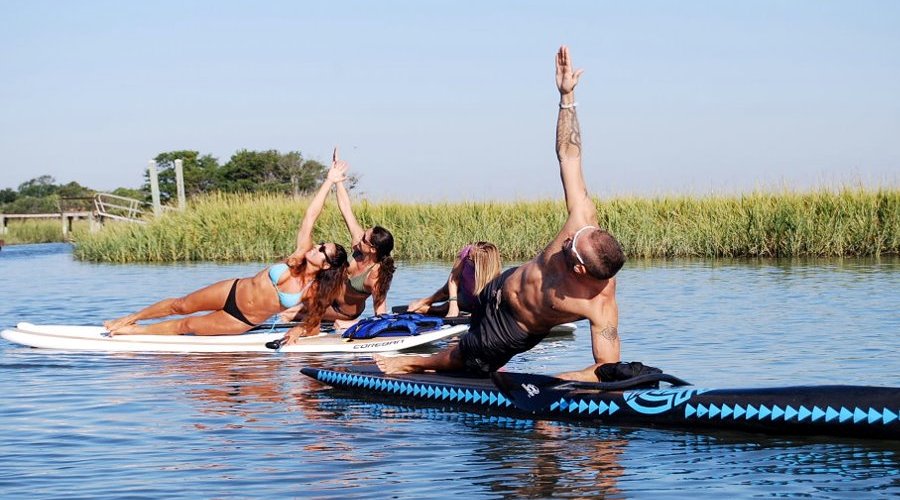 Here Are the Top 10 Benefits of Paddleboarding Fitness
Paddleboarding can help you improve your balance. Paddleboarding requires a lot of core stability and leg strength to maintain balance. Why? Because you have to stand upright on the board. This not only helps you have a good balance while paddle boarding but increases your focus and balance in day-to-day activities, as well.
We all want to have a full-body workout and paddleboarding can help you with that. Because of the balance required, leg muscles will be hard at work attempting to stabilise your centre of gravity. While the arms, back and shoulders are used to propel the paddleboard in the water. The core, back and abdominal muscles are constantly at work to maintain your balance. Naturally, almost every muscle in the body is used at some point during paddleboarding.
Standup paddling is a very low impact exercise. This workout can also help you reduce stress because of how water naturally soothes your body. After spending a day out on a paddleboard, it's natural to feel a little sore all over your body. But the soreness is a good thing because that means you are building up your overall body strength. Meaning, thorough paddleboarding, your overall strength can increase.
This will give you not only a total-body workout but also a cardio workout. You can get a good cardio workout if you spend enough time out on the water paddle boarding. Improving your endurance is one of the benefits that paddleboarding can offer.
According to iSupWorld.com, paddle boarding will help you avoid being a victim of heart attacks and strokes. This workout can help you have a better cardiovascular heart. Lastly, one of the best benefits of paddleboarding is it allows you to connect with nature.