When someone wants something, no one can stop him from reaching it – not even a chronic illness. 
A story of perseverance features a guy from New York. He convincingly regained his form through weight training after years of battling a lung disease.
In this old photo, he does not look like a gym goer despite wearing men's shorts and rubber shoes, but after some months, he has gained some weights and is ready to rock his gym men's shorts or workout shorts.

Overcoming Adversity
Jared Wells, who hails from Utica, New York, becomes a huge inspiration to fitness enthusiasts as he proves that the power of exercise can overcome a disease.
At age 16, Jared was diagnosed with Cystic fibrosis, a disease that builds thick mucus in the lungs, pancreas, and other organs. With the severe damage it can cause to a person, he is expected to live for just 40 years at most.
"For some reason, when I was doing my medications nothing was healing right. I just kept getting sicker and sicker. I got really close a couple of times that I was not even sure I was going to bounce back and after that it seemed really tough to get out of it but eventually I made my way though and I'm here now."
Because of this illness, his body fell and became frailer. For him, the experience brought him fear as he was afraid that he will not be able to do things he really wanted.
"It's quite frightening and I never thought I would have to deal with it at that young of age because usually they say it's not until your 40's or 50's that it happens and for me I was dealing with it at about 18, 19. I was truly scared because I wanted to do a lot more."
But five years after, his health showed some signs of improvement, thanks to his excellent support crew, which includes his mom and his friend, Vinny.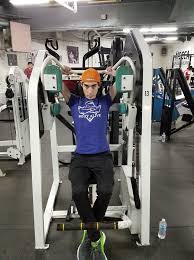 New Journey
Early this year, Jared started a new journey in his life – getting back into shape.
With this goal, he began his workout plans at Body Alive, a gym owned by his friend's dad. Vinny and his dad, Bob, has a huge role in Jared's journey. Without them, he may not have regained a healthy body and great physique.
"I would like to become a bodybuilder maybe compete. But as of right now just it's for myself."
As Bob takes on Jared's fitness journey, he decided to post a photo of his training on the internet. This inspired many people. It quickly went viral online and garnered more than 19 000 shares. Now, it was not just his mom and his friend and Bob, who rally behind him in this new journey. He even pushed himself further because of the encouraging support from social media.
His friend. Vinny, also created a GoFundMe page to assist Jared with his medical expenses and supplements. What friends are for? Jared is so lucky to have this set of people beside him during tough moments.
And for the good news: four months after he started weightlifting, he has accumulated 35 pounds by eating 6 000 calories per day. Great improvement!